Senate Receives One Ministerial Nominee, Votes On 2nd Const. Amendment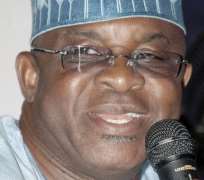 ABUJA, Oct 19, (THEWILL) The Senate announced today that it would vote tomorrow (Wednesday) for the second alteration of the 1999 constitution thus signaling the kick off of the much awaited voter registration by the Independent National Electoral Commission (INEC).
The amendment will also accommodate the new timeline for the 2011 general election requested by INEC.
Also the Senate may enquire into the present status of the Service Chiefs in the constitution, whether the Presidency was right to inaugurate them without a Senate confirmation of their appointment.
The name of Professor Taoheed A. Adedoja was also forwarded for confirmation by President Goodluck Jonathan. Adedoja is a replacement for former Minister of State for Finance and later Special Duties, Mr. Remi Babalola. Addressing a press conference at the end of plenary, Senate spokesman, Senator Ayogu Eze, said all things being equal the Senate would vote on the final draft of the second amendment of the constitution and await the concurrence of the House of Representatives before transmitting the copy to the State Houses of Assembly to work on.
"All things being equal we were hoping to lay and vote on it tomorrow. I want to say that we mean everything we say, hopefully by this week or so, we will be done with the constitutional amendment and transmit it and I hope that you listened to Jega when he said we are doing everything possible and that the National Assembly has not constituted any distraction or any delay in the process of amending the constitution or the electoral Act or providing support to INEC to ensure that we have a free, fair and credible elections," he said.