FAYEMI: AT LAST, THE TRIUMP OF TRUTH IN EKITI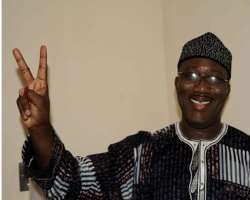 PHOTO: NEW EKITI STATE GOVERNOR, DR KAYODE FAYEMI.
Otito lo ma leke iro Kayode mi o Ma ma yi wa pada o… Oti to lo ma leke iro Fans of Ebenezer Obey, the legendary Juju musician will immediately recognize the foregoing lines as an adaptation of the legend's lyrics; it simply says truth will always triumph over falsehood; Kayode Fayemi, who has now been sworn in as Governor of Ekiti state after a long battle spanning 41 months, is advised to go into office resolutely committed to the principles that have brought him to this fine moment in his public career. The expectedly melodramatic end of the Fayemi-Oni electoral saga in Ekiti state is truly a triumph for democracy and the cause of justice, but it is also the story of one man's steely determination and belief in the justness of his cause. Men of weaker resolve would long have given up. Fayemi has fought perhaps the most dramatic battle to get to any Government House in Nigeria since 1999. He deserves praise for his discipline and consistency, and faith in the rule of law.
He began the struggle when he challenged the election of Segun Oni as Ekiti Governor in 2007. The court eventually resolved the matter by ordering bye-elections in 63 wards in 10 local government councils. Oni, relying on the power of incumbency and the influence of his party, "won" that bye-election that was held in 2009. His was a tainted victory, for the election, as it were, was marred by observed irregularities in four wards in Ido Osi and Ijero local government councils, with attendant widespread indignation about the complicity of the state electoral commission whose chair initially threw in the towel, citing undue pressures from above, only to recant later, after she was summoned to Abuja. In fact, Mrs. Ayoka Adebayo abandoned her post and ran away initially, declaring that she was being asked to act against her conscience. Eventually, she was compromised and she no longer talked about her conscience. She returned to declare Oni, the winner of that election. For the second time, Fayemi, supported by his party, the then Action Congress, returned to the courts. The Court of Appeal sitting in Ilorin has now granted him victory and placed the right accent on conscience and truth. Their Lordships spoke unequivocally with one voice: that Fayemi won both the 2007 election and the 2009 bye-election, and they gave a clearly mandatory order that Fayemi be sworn in immediately as the Governor of Ekiti state. It is victory well deserved. The statewide jubilation that greeted Fayemi's victory is positive proof of his popularity, and a comment on the 41 months of Oni's troublous administration. According to reports, members of both the PDP, Oni's party and the Action Congress trooped to the streets in Fayemi's support. The police had drafted 3,000-armed policemen to Ekiti to maintain peace. But there was no threat of violence. So strong was Fayemi's determination that even with Oni in the saddle, he ran an alternate government of sorts, a virile opposition that constantly reminded the people of Ekiti through the regular media and the new media that the issue of electoral mandate in Ekiti needed to be resolved. He kept a busy secretariat which analysed every government policy and issued press releases on virtually every issue. Fayemi has a Ph.D in War Studies, that Sun-Tzunian exposure may have helped but he also had very passionate foot-soldiers who believed in him, including Hakeem Jamiu and his colleagues who manned a war room that churned out pro-Fayemi press releases breathlessly. Fayemi also had behind him, very powerful political machinery, the Action Congress of Nigeria (ACN) which has been built up by former Governor Bola Ahmed Tinubu into an energetic and robust platform for the Progressives in Nigerian politics. Fayemi's victory will further embolden that Congress and it is perhaps the kind of counterpoise that Nigerian democracy requires to check the reign of impunity and to limit the audacity of election riggers, and all those who consider elections a "do-or-die" affair. During the 2009 bye-elections in Ekiti, members of the human rights and civil society coalition, Fayemi's primary constituency turned out in large numbers, but some of them were attacked and detained by uniformed policemen. Abubakar Momoh, the academic and activist had his skull cracked and he was detained. He and other observers reported that the Ekiti 2009 bye-election was far from being free and fair. Fayemi's victory is also now theirs: they have been vindicated. Fayemi's victory also provides additional useful lessons; in the end, the matter in Ekiti has not been resolved through violence but through the courts. Developing faith in the court system, rather than the resort to self-help can only further strengthen the Nigerian democracy. This should be encouraged. However, Oni is to be praised for his maturity. He has been courageous in defeat, even asking Fayemi to continue from where he dropped the baton. But it bears restating that Segun Oni's Achille's heel is not necessarily the Fayemi electoral and judicial challenge but the process that threw him up as a PDP Gubernatorial candidate. The initial PDP gubernatorial primaries in Ekiti state was won by Yinka Akerele who ran a spirited campaign with the pay off line: "Ajinde Ekiti" ("The Resurrection of Ekiti"). This was at a time when then President Olusegun Obasanjo deemed it his divine right to anoint future public office holders. Thus, even before Akerele's emergence, the likes of Akin Osuntokun, Obasanjo's Political Adviser, had been carefully pushed aside by the party on frivolous grounds. Osuntokun for example was disqualified on the ground that he, a good quality Master's degree holder, could not produce a Primary School Leaving Certificate which no one had asked for! Akerele who eventually emerged was rejected and through some mean manoeuvres, Segun Oni then a complete wanna be, who came third in the PDP party primaries, was anointed by Obasanjo's Aso Rock. His never knowing peace as Governor was subliminally also the handiwork of aggrieved PDP members who by now must be jubilating in secret that the man Obasanjo thought was best for the job has been caught with a mandate of clay. Ironically, before joining the Action Congress, Fayemi had wanted to join the PDP. He made the necessary overtures but Obasanjo snubbed him. So when today Fayemi ascribes his victory to God, it is a loaded message I believe to all mortals who at critical moments try to play God. Rotimi Amaechi in Rivers, Peter Obi in Anambra state, Adams Oshiomhole in Edo state, Segun Mimiko in Ondo state can also all say the same. Wherever he is, former Ekiti state Governor, Ayo Fayose is also likely to be jubilating. Fayemi's victory resolves not just one man's struggle for power, but also the anxieties of other stakeholders who may have felt cheated at one point or the other by the powers that be. Segun Oni, on his assumption of office worsened his own case further when instead of seeking to reconcile aggrieved members of his party, the PDP, embarked on such triumphalism that excluded them further. He enjoyed the support of a minority elite in Ekiti politics who consider themselves superior to everyone else. The Court of Appeal has just told them that they are not as powerful as they think. Segun Oni spent 41 months in office. The sum effect is that he exercised an undeserved mandate, although till the end, he insists that he did not steal anyone's mandate. We should be worried about the absence of a reliable framework for preventing this kind of situation, eleven years into civilian rule. Oni had almost completed a four-year term! The Ekiti electoral dispute is even worse than the debacle in Anambra state. It is the reason why efforts should be made to ensure such electoral reform that will address this point. A situation whereby the possessor of a stolen mandate has already nearly completed the required term in office before the law intervenes to right the wrong detracts from the sweetness of the victory. In this matter, it is the people of Ekiti state that are the losers. They have had almost four years of illegitimate governance and there is no way the hands of the clock can be reversed. So much is expected of Governor Kayode Fayemi. His emergence increases the number of Progressives now in political office across the country, but each one of them, particularly Fayemi must demonstrate that they are most deserving of the trophy. Fayemi should know that there is a world of difference between being an activist and being an insider and a man in the saddle. He now has to prove his mettle in the latter capacity, and there will be many lessons to learn along the way as US President Barack Obama whom he admires a lot, is also discovering. He must begin by asking all the hard questions. Why for example does Ekiti state own three universities when it can barely fund one? Where are the common areas between his politics and the last administration? In what ways can his administration ensure economic prosperity for the people? The work ahead is not about this being "our turn," but what can be done with the opportunity to serve the people. The difference ultimately, between him and Segun Oni will not be at the level of credentials, but what is brought to the table. Fayemi must also set out with a sense of history. The primaries process that threw him up as the Gubernatorial candidate of the Action Congress also led to disaffection and the exodus of some key members of the party at the time, notably Ayo Arise, Dayo Adeyeye and Dare Babarinsa. Fayemi must seek to reconcile all the divided groups in Ekiti state politics and run an inclusive government; he must refuse to be distracted by a needless probe of the Segun Oni administration, and must not allow himself to be handicapped by his many political IOUs. Hear Fayemi: "All this while when it appeared as if falsehood was miles ahead of the truth, I kept faith with the mandate freely given to me by the good people of Ekiti state. I kept faith with the words of God that truth will always overcome falsehood. I kept faith with my strong conviction that the judiciary is the last hope of the oppressed. Today, I am vindicated by this judgement. The glory of Ekiti has been restored and it is time to move forward." Yes, it is time to move forward in Ekiti and also in the larger Nigerian community; with regard to the latter, we must in the immediate future consider condign punishment for election riggers in order to check their impunity properly; there must be clear consequences for bad conduct. More importantly, we must put an end to the survival of stolen mandates and the justice machinery grinding so slowly that it encourages theft and illegalities within the democratic sphere. It is to be hoped that the Kayode Fayemi-Funmi Olayinka era in Ekiti state will now bring the people the breather that they so desperately need. Ekiti kete, o kun o.
Disclaimer:

"The views/contents expressed in this article are the sole responsibility of the author(s) and do not necessarily reflect those of The Nigerian Voice. The Nigerian Voice will not be responsible or liable for any inaccurate or incorrect statements contained in this article."
Articles by thewillnigeria.com