MY SADDEST MOMENT – HOPE DAVIES, GOSPEL SINGER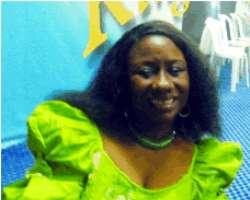 Hope Davies
As a gospel musician/praise and worship minister, Hope Davies has been consistent in the service of the Lord. She has been privileged to minister in many countries including the United States, UK, Canada, Germany, Zaire and South Africa. But despite her consistency as a servant of the Lord, Davies' faith in God was shaken recently as she was visited by a disaster that claimed everything she had worked for. As Nigerians were celebrating the nation's 50th independence anniversary on October 1, Davies' house was gutted by fire and she couldn't save a pin. However, the KORA Award nominee, who has in her kitty five successful albums, lives to tell the story of her tribulation and triumph to Blockbuster . Excerpts:
Fire on the mountain
I was going for a programme in Abuja, and was about to take the last flight but while at the airport, my neighbours called me, saying my house was on fire. That my house is burning. They were screaming and shouting. I was shocked. My mind went to the people I left behind. Are they safe? I had to come down from the aircraft and rushed home. When I got to the scene of the fire, I was happy because no life was lost, everybody was safe.
I lost everything
I lost lots of material things but God is able to replace them. I went out and after getting home the next day, I discovered that there was no place to lay my head. The entire house was razed down. But then I still went to do a marathon seven hour worship in Abuja and I did not tell the oraganiser of the programme that my house was razed by fire. Later when I told them, they were amazed that despite the incident I could still stand on my feet and perform. But then it was God. The Bible says that the things we can see are perishable; the things that are eternal are the things we cannot see. I believe God in His mercy will return what I lost 10 folds. God gave me strength, and Satan cannot disgrace me, No, he cannot. God has been so good, using people here and there. People have been showing us kindness. We moved into a hotel first and now we are trying to settle down. It's just two weeks that the incident happened but God has been faithful, and I know he will still do more.
Oh Chelsea, my dog!
I thank God that my children were in school when the fire came. Though, the experience is devastating, the most devastating of it all is Chelsea, my dog. The fire didn't touch her but we have to let her go because there is no place to keep her. I know my children will cry because of that. The dog has been with us for 10 years but we have to give her out to somebody else. For 10 years, we wake up everyday to see that dog so you can imagine how it hurts not to see it again. What I did was to take her picture when we were giving it out, and I just took a last look and said to myself, 'Chelsea has to go'. Chelsea was a memorable dog. It was when former American President, Bill Clinton came to Nigeria that we got and named her Chelsea, after Clinton's daughter. She used to sleep in the same room with us when she was still being nursed but now, she has grown.
Music and motherhood
I cope very well as a musician and mother. It's all about planning. When you plan your life, you don't over-indulge on something. I make sure I have time for my family. Many things will take you away from your family, just plan your life, and make a conscious effort to be with your family always. Each day must be planned.
God and talent
You must first have the talent. Definitely, if you have the talent and you have worked on your talent, you're supposed to be remunerated. But it depends on what you choose. Some gospel artistes are missionaries; some are not. Make sure you do what God has asked you to do. Focus on God, not just because an individual has done it and succeeded; ask God to show you what to do. Some gospel musicians do charge money and they have made it big time, some don't and they are yet to get there, so it depends on the direction of God in your life.
Greatest challenge
For many years, we've been recording success in the music industry but our greatest challenge is marketing. Everybody is trying to do good music; compose, produce and sing well but marketing has been our major challenge.
Yet we pray that the government will do more even though, they have been trying their best. If you put all your money in an album and you don't get it back, there is no way you could produce again. It's so discouraging investing your personal money and at the end of the day nothing comes out, and you see the man on the street eating from your sweat. But then I think things are picking up both here and outside the country. Nigerian artistes are doing well.
On piracy
In the developed world, you cannot see CDs being hawked on the streets. By the time you send law enforcement officers after the pirates, nobody will buy from them again. And after getting them arrested, make sure they take you to the source of these pirated copies, that's the way to do it.
On Nigerian music at 50
We've grown so much. Before, it was acapella with the organs. Now, with instruments being used we are reaching the entire world. It used to be local but now Nigerian gospel music is going everywhere. Before now, how many people were going out to perform? Now virtually all Nigerian gospel artistes go out to perform. What some secular artistes get cannot even compare to the fees being paid to gospel musicians. For instance, in America gospel artistes now earn more than before. Indeed, we have grown, we have grown so much.
Advice to up-coming artistes
They should learn to work hard. Nowadays so many people do not want to work hard, they just want to jump into wealth. Nobody comes out and becomes a hero overnight; that is not possible. Check out a successful person, he must have worked hard, prayed hard, and believed in himself. Whatever you believe in yourself will happen, that is my advice.