NIGERIA/ GUINEA MATCH, SUPER FLOPS!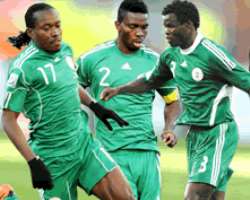 Former Super Eagles' defender, Chikelue Iloenyosi, has slammed the players of the national team for their lacklustre performance against Syli Nationale of Guinea on Sunday. Iloenyosi described the outing as very unbefitting for the Super Eagles considering the calibre of players in the squad.
'The players did not perform to my expectations. What I saw was not the national team we all respected in the past. The boys were too boring and full of themselves while on the pitch. They were not committed to win that game because their actions did not portray them as people, who were hungry to win.
'During my time in the national team, any player who played the way the Eagles did in Conakry, would never get another invitation from any coach to represent the country again. I had expected the players to show the same level of commitment they usually exhibit in their respective clubs, but what we saw on Sunday against Guinea was a shame.'
The former German-based defender, however, exonerated Coach Austin Eguavoen from the 0-1 defeat, but said the players should be held responsible for their calamity.
The Flying Eagles' member to Nigeria'99 World Youth Championship, called for the inclusion of home-based players in the senior national team. He stressed that mere invitation of the home-based players to camp without giving them the opportunity to showcase their talent would not ginger the foreign-based ones to sit up.
'Nobody should blame Coach Eguavoen for the embarrassment in Guinea. I rather heap the blame on the players, who never showed as if something was at stake in that match in Conakry. After all I did not expect the coach to enter the field and play the game with the boys. Besides, the players are all professionals, who ought to wrap up the game without hassles.
'It was only the goalkeeper, Vincent Enyeama that showed some elements of commitment in that encounter, while the rest were running about on the pitch without focus.'
Iloenyosi continued: 'This is the appropriate time to encourage the home-based players to take serious roles in the national team. They should be given chance during matches to prove their worth. I suggest that at least up to 30 per cent of them should always be fielded in our matches henceforth, because they are hungry to sell themselves, and that will usually compel them to perform well for the country during matches.
'Moreover, when the home-based players are considered for matches ahead of some foreign-based ones, the foreign-based players will have a rethink about their future in the national team. The nation, automatically, would be better for it,' Iloenyosi reasoned.