ABIA KIDNAP KINGPIN ON THE RUN, DECLARED WANTED, ACCUSED OF ABDUCTION OF 15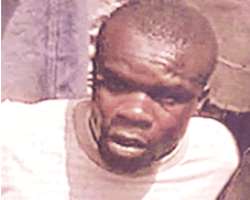 Osisi ka Nkwu
A suspected kidnap kingpin believed to be terrorising Aba, Abia State, Mr. Obioma Nwankwo (aka Osisi ka Nkwu) has been declared wanted by the state Police Command.
Nwankwo had allegedly caused residents of Aba and the police nightmare as no day passed without news of members of his gang allegedly killing a policeman or abducting a resident of the city.
His reign of terror climaxed when his gang allegedly abducted 15 pupils of Abayi International School, Osisioma and took them to his camp in Ugwuati in Ukwa West Local Government Area of Abia State, which incidentally was his hometown.
Nwankwo, who is about 35 years old is believed to be the mastermind of high profile cases of kidnap that had taken place in Abia State in the past three years including that of the 15 pupils who were freed by soldiers at a camp in Ugwuati believed to belong to the wanted man.
Hints that the alleged kidnap kingpin would be declared wanted and eventually arrested emerged last Thursday when the General Officer Commanding (GOC) 82 Division, Nigerian Army, Enugu and leader of the military operation, Major General Sarkin Yaki Bello told newsmen in Aba after meeting with the city's business community that Osisi ka Nkwu was yet to be arrested and that he would soon be declared wanted. Before the current military onslaught, Daily Sun gathered that Osisi ka Nkwu was arrested sometime ago but later released.
According to a statement by the state Commissioner of Police, Mr. Jonathan Johnson, the command declared Nwankwo wanted in connection with incessant cases of kidnapping, armed robbery, rape, murder and mentoring of kidnappers.
The statement which described Nwankwo, a native of Ugwuati village in Ukwa West Local Government Area of Abia State as dangerous, armed and deadly, also described the wanted kingpin as a male of about 35 years of age, dark and 5.5 feet high with oblong face. He speaks English and Igbo.
The police, while assuring the public of a handsome reward for information that could lead to the arrest of the kingpin, urged anybody with useful information to report to the nearest police station or the Police Public Relations Department, Room 8, State headquarters, Bende Road, Umuahia.
Daily Sun investigation also revealed that Nwankwo who was a member of the Movement for the Actualization of Sovereign State of Biafra (MASSOB), was said to have been dismissed from the group over criminal activities.
It was gathered that after his expulsion from MASSOB, Nwankwo joined the militants in the Niger Delta region and after a while, went to Edda in Ebonyi State and established a camp where he trained criminals.
At the height of his criminal activities in Ebonyi State, the Federal Government drafted soldiers to the area who dislodged him and his members. He was then said to have relocated to his hometown, Ugwuati from where he began his illicit business of kidnapping and other violent crimes that brought Aba, the commercial and industrial hub of Abia State on its knees. It was also for his activities that the Federal Government sent in soldiers to with directives to dislodge the kidnappers and rid the city of other criminal elements.