Lagos Plans Relocation Of Flooded Communities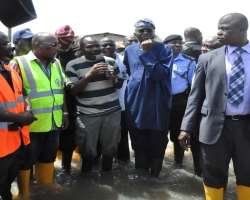 PHOTO: LAGOS STATE GOVERNOR BABATUNDE FASHOLA, SAN; (IN BLUE CAFTAN) WITH EMERGENCY AGENCY PERSONNEL DURING A VISIT TO FLOODED COMMUNITIES IN LAGOS STATE TODAY, OCTOBER 11, 2010.

LAGOS, Oct 11, (THEWILL) - Lagos State Government today unveiled plans to relocate about 10 communities including Ajegunle and Ikorodu recently flooded in Lagos State due to the release of water from Oyan Dam in order to avert collateral damage on lives and properties.
Lagos State Governor, Mr. Babatunde Raji Fashola (SAN) at a visit to the affected communities revealed the planned relocation of the affected communities.
Fashola, who was accompanied by some cabinet members, National Emergency Management Agency (NEMA) Director-General, Air Vice Marshal Mohammed Audu-Bida and Lagos State Emergency Management Agency (LASEMA) General Manager, Dr. Femi Oke-Osanyintolu, said 681 persons would be evacuated today.
Fashola said the state emergency agency had started enumeration of internally displaced victims, and about 681 persons, had been identified, asking leaders and residents of the affected communities to cooperate and be prepared to move from the entire area.
He said: "One of the things we must understand is that this is a flood plain. Nobody is expected to live here. So, the people must be ready to move. As I get back to the office now, we shall begin to look for land. We would move all the people in the affected communities to the new land."
"We need every member of the affected communities to cooperate with us. We have worked together and surmounted bigger challenges than this before as a people and as a state. I believe if we cooperate we will put this behind us very quickly.
"We will most likely allocate land to you cheaply if not or free so that you can move there and get on with your life. Whatever we can do as a government that would quickly make you settled down in the new place we would do," Fashola assured.
Disturbed by the failure of the federal government to allow access to the ecological fund, Fashola blamed FG for not granting his request to access the funds, which could have helped the state respond proactively to the flood disaster or avert the disaster from occurring.
He said: "We applied for ecological funds from the federal government since the last three years, but were not given to us. We have raised this issue with the federal government to grant us ecological funds to deal with this matter decisively so that we would have averted this problem. But that is behind us, we appeal to residents of this area to cooperate with the state government".
Speaking at the communities visited, Audu-Bida, who is the director-general of NEMA, pledged that the agency would provide relief materials for the internally displaced victims in the state as soon as possible.
He also promised to get the situation report about the communities affected across to the presidency so that necessary intervention can be taken in order to avert the future flood disaster in the area.
But leaders and residents of the affected communities expressed reservation against the plan of the state government to relocate them from their ancestral roots, saying the flooding of the area was normal for them.
For Baale of Idera Tuntun, Chief Gideon Ogundipe, who has lived in the community since 1936, the people in the affected communities are used to the water and flood, which he said, is a source of happiness for them.
Ogundipe said: "I have been here since 1936. It has always been like this every year. We have been living here without problem. It has had no adverse effect on us but the surge is different this year.
"We are used to this. We are happy with it because we eat from here as our business of fishing is booming. It will only be strange to those who just moved to the communities around here. If you go into the flooded houses and communities, people are living there," he said.