NIGERIACOM: MTN, GSMA, NIG, OTHERS TASK FG ON BROADBAND SUBSIDY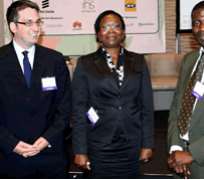 L-R: Mr. Nicholas Jotischky, Principal Analyst, MEA, Informa Telecoms & Media, Convener of Conference; Mrs. Oyeronke Oyetunde, Senior Manager, Regulatory Affairs, MTN Nigeria
Almost every telecommunication operator and various associations at the NigeriaCom broadband conference and exhibition have urged government to heavily subsidise broadband in the country. They explained in different sections at the two- day event held last week in Lagos, that rather than place much emphasis on oil and other things, it would go a long way to facilitate internet penetration especially now that the world is moving over to 4G.
Tagged: 'Boosting profitability in Africa's largest Telecoms Market', several operators including MTN reasons that several challenges ranging from theft in Base stations, insecurity in several regions and other challenges may militate against this year's theme and advocated for a favourable playing field.
According to the special government adviser at the Global System for Mobile Communications Association (GSMA), Ross Bateson, If the government intends to take internet services to the doorstep of its citizens thereby sustaining the remarkable growth recorded in the telecommunications landscape beyond 2010, it must effectively manage its national frequency resources that would include initiating plans for the auctioning of available spectrum to support the rollout of mobile broadband technologies and services.
'Clarity on spectrum allocation will drive investment in mobile broadband technology and encourage sustained technology upgrades from High Speed Packet Access (HSPA)/HSPA+ to LTE to the benefit of the Nigerian consumers'.
He noted that the government must plan the release of low frequency Digital Dividend Spectrum (DDS). This, according to him, would be instrumental in ensuring rural areas benefit from high bandwidth broadband connectivity. The Digital Dividend spectrum is however located between 200 MHz and 1GHz. Moreover, owing to its good signal propagation characteristics, fewer infrastructures is required to provide wider mobile coverage, meaning that communications services can be provided in rural areas at lower cost.
On its take, Senior Manager, Regulatory affairs, MTN Nigeria, Mrs.Oyeronke Oyetunde, stressed that the country needs broadband policy framework that would enhance and enable conducive business environment for operators to push penetration. While reiterating that MTN was continuously motivated and committed to address capacity, broadband proliferation, and is constantly innovating by developing and introducing lastmile products and services like its WiMax solutions, which has been deployed successfully across the country.
Commending the Nigerian Communications Commission (NCC) over the State Accelerated Broadband Initiative (SABI), Oyetunde represented by Mr. Quasim Odunmbaku, Regulatory Affairs Manager, MTN, saying, 'It is a laudable effort at driving rural penetration. Subsidy for operators is a welcome idea but it must be sustainable and equitable.
'It is an objective measure no doubt but will only be useful if it encourages operators to undertake back burner projects, for instance, rural broadband rollout that ordinarily would not have been the priority of the operator,'she said.
Oyetunde and other stakeholders concurred that the absence of a policy framework, while identifying high cost of terminal devices as compared to low acquisition cost in the case of mobile phones with high penetration rate as hindrance to broadband penetration.
The senior manager also said that her company has adopted a particular strategy to tackle low level of broadband penetration was to launch its low cost net-book device with internet bundle. This, according to her delivers fast and reliable access on the go.
President, Nigeria Internet Group (NiG) and Managing Director, Pinet Informatics, Mr. Lanre Ajayi disclosed that there is a policy underway that would enable terminal devises to be more affordable. Adding his association had been called upon to make input to its progress.
Service provider, Qualcomm disclosed shortly after the presentations that it would be opening its company's hub, QCOM Wireless Technologies Limited for West Africa business operations in Lagos.
According to Alexander Dadson, senior director, business development and managing director, Qualcomm's West Africa operations, the office would provide support to mobile operators and device manufacturers serving countries throughout the region, including Nigeria, Ghana, Ivory Coast, Senegal and Cameroon.
Leading research organizations estimate that roughly half of Nigeria's population lives in rural areas, much of which is beyond the reach of fixed line broadband solutions.
The high cost of traditional computing devices, such as desktop computers and laptops, also creates barriers to reaching West Africa's consumers.  Qualcomm's integrated, single-chip solutions are enabling its partners to offer Internet-capable 3G devices (CDMA2000 and WCDMA/UMTS) that support different tiers of market needs from high-end smartphones to low-cost handsets.  The Company's Engineering Services Group also works collaboratively with operators to assist in their deployment of cost-efficient wireless networks for both dense urban areas and rural regions.  'Qualcomm supports growth and development of the West Africa ICT sector.  Toward this end, we are collaborating with regional partners to make cost-efficient 3G mobile devices and services more readily available.
'We also recognize that fulfilling the industry's promise of anywhere, anytime wireless voice and data services will not be easy; it will take time, resources and close partnerships with policy makers and operators to make this vision a reality.  Our new Lagos office not only reflects Qualcomm's long-term commitment to the region, but it also allows us to maintain close proximity to the people, governments and important industry events that are driving the West Africa ICT sector forward.'
Ericsson also used the exhibition to demonstrate its new e-health equipment that was designed for patients to consult medical practitioners online on any ailments as well as check their Blood pressure among others.
The participation for this year's event was overwhelming as over 700 delegates with more then 35 speakers shared their strategies on how network operators can equip their businesses to capitalize on the Nigerian flourishing telecoms market.