AZAZI NAMED NEW NSA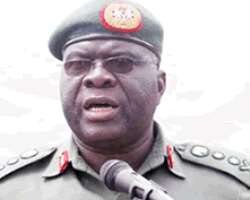 General Andrew Azazi
President Goodluck Jonathan has appointed former Chief of Defence Staff, General Andrew Azazi (retd) as the new National Security Adviser. This is coming three days after President Jonathan had at the National Hospital where he had gone to visit victims of the Friday's twin bomb blasts said he was set to overhaul the security system in the country, insisting that the blasts had nothing to do with the Movement for the Emancipation of the Niger Delta (MEND) but sponsored by people who were flaunting MEND and the Niger Delta to perpetrate evil acts.
Azazi took over from Colonel Kayode Are (retd), who was acting when General Mohammed Aliyu Gusau resigned few weeks back to contest the 2011 presidential elections.
A statement signed by the Special Adviser to the President on Media and Publicity, Ima Niboro, said Azazi joined the Jonathan administration from a rich and illustrious career in the military. He was the chief of army staff and later chief of defence staff under the late president Umaru Musa Yar'Adua's administration.
Azazi was born at Peretorugbene in present Bayelsa State on February 1, 1952. He had his early education in old Bendel State of Nigeria where he attended Government College, Bomadi and graduated in the class of 1968, after which he joined the Nigerian Defence Academy Regular Combatant Cadet-Course 12 on July 3, 1972.
Azazi was commissioned 2nd Lieutenant on December 14, 1974. At the end of the combined training, he won the bronze medal for being first in Arts subjects. He had served as a Brigade Intelligence Officer, Divisional Intelligence Officer and Colonel Coordination, Headquarters Directorate of Military Intelligence. He was assistant Defence Attaché at the Embassy of Nigeria, Washington DC, United States for three years.
He served as a member of the Directing Staff of the Command and Staff College from where he was posted to Lagos Garrison Command as  the Intelligence Officer and subsequently to the Directorate of Military Intelligence as Colonel Coordination. He was later posted to the Training and Doctrine Command as Colonel Research and Development and then Director of Training.
On graduation from War College, he was appointed Colonel General Staff, 81 Division of the Nigerian Army and later Deputy Chief of Defence Intelligence, Defence Intelligence Agency. General Azazi also served as a member of Directing Staff of the National War College, Abuja, rising later to become its Principal Staff Officer Coordination. He was appointed Director of Military Intelligence in 2003.
The senior officer was an external examiner at the National War College and a Guest Lecturer on Military Operations Other Than War and Revolution in Military Affairs. General Azazi was a member of Nigeria's Defence Policy Review Committee 2000/2001. He was appointed Chairman of the Committee of Nigerian Army in the Next Decade in May 2004. He was appointed the General Officer Commanding (GOC) 1 Division, Nigerian Army in January 2005, and subsequently appointed Chief of Army Staff (COAS) in June 2006.
On August 20, 2008, Umaru Yar'Adua replaced Azazi with Paul Dike as CDS and announced Azazi's retirement from military service. Azazi, has had one of the fastest growing military careers in present day democracy in Nigeria, between May, 2006 and June, 2007, the General wore the ranks of Major General, Lieutenant General and General.
General Azazi holds a MSc in Strategic Studies from the University of Ibadan, and has completed the Staff Intelligence and Security Course, School of Service Intelligence, Ashford, Kent, UK and Combined Strategic Intelligence Training Programme, Defence In