ONE HELL OF A DAY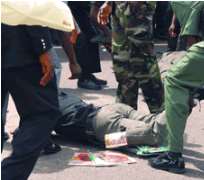 As I watched the callisthenic displays of the 450 Nigerian children at the Eagle Square on Friday, I forgot my sorrows and anger. I danced around the house and sang along with them. The kids were so coordinated as they neatly waved, danced and wove different nice formations. I was happy.
Even my 10-year-old daughter asked me what I was doing in Lagos if I wanted to dance with the callisthenics people. Oh well, seeing those perfect movements lifted my spirits and for a few moments I forgot our national imperfections. Then my daughter, thoroughly impressed with the part where the performers formed three perfect circles, perfectly closing and unfurling like a beautiful flower in the sun, asked if the children were going to be paid. That brought me back to earth. I mumbled something but pretended to be engrossed with my dancing.
For one, I knew some kids who did not get paid after about three weeks in camp preparing for a callisthenic show also in Abuja a few years ago. A few older men conned the kids, cornered the money and that was it. What can a few kids do to powerful con men? So, did those who take part in the October 1 display do it for the love of the country or did we promise to give them 'a little something'? And if we promised, are we gonna pay or con? That there is a reason to even ask this question is disheartening. But that, among other reasons, is why I'm happy but not so happy about how far we have come in 50 years.
Why for instance, do we have the ability to put together such a wonderful display last Friday and we are at a loss on how to fix our little problems? How come we can make those young Nigerians do those things but we can't ensure that they can get free education or , at least, affordable education? And did you see the part when the children covered themselves up with the big green, white, green flag? It brought tears to my eyes. It was such a symbolic display, an expression of total faith in what this great nation owes its children but can our flag ever protect our children again? Does the flag still represent our strength or are we playing the ostrich with everything including our peace? What future is there for those kids who 'hid' under the national colours on October 1, 2010? Private primary, secondary schools and universities? Unemployment. Bleak future. Will things change or are we stuck forever under the flag?
That does not mean there is nothing to celebrate. We have come a long way and we are still under one flag. So many other nations have disintegrated in half the storm Nigeria has weathered but we are still here.
This was how far I got before the Abuja bombs went off
No, MEND, no
I'm shaking. I'm worried. How could bombs go off on a day like October1, 2010? Just as I was wondering if our flag meant anything or could provide us cover, someone actually went ahead and set it ablaze. Just when I had drawn up a list of things we can celebrate, MEND struck. MEND, oh MEND, when will you stop these fireworks that is working us all up? It's okay to be angry guys but to kill fellow poverty-stricken countrymen is the part I don't understand.
Dear Jomo Gbomo, you know what came to my mind when I heard that you guys actually did this 9/11 thing? It is the picture I see every night when I'm going home from work.
It is the picture of a poverty-stricken policeman wrestling with a poverty-stricken okada man for N50, sometimes N20. Those check point beggarly cops wave and salute the rich guys in their latest Toyota Camry and Range Rover Sports SUV and let them go. They then line up the okada men, tired, overworked, frustrated men who have worked all day and probably couldn't boast of N500 take-home pay. They delay them, harass them until they part with 'something'. One poor man's inhumanity to another. That is what MEND has done. The people who died in Friday's bomb blast are not the people who desecrate Niger Delta. They are not the ones who pad budgets and divert developmental project funds.
The injured men are troubled Nigerians like MEND men and women. They are poor folks who just went to eagle Square to dance away their sorrows. Now the poor have taken the 'bullets' meant for our oppressors and spoilt our party. And it is sad.
Our taskmasters are far from our madding crowd. Their children are in London. Their wives are shopping in Paris and they all do their annual medicals in Germany. They find ways to divert our commonwealth through expensive and stupid trips. They make us pay taxes and force us to ply bad roads while they fly above our heads sipping coffee or wine. They tell us our votes must count when they know they won't count those votes. They soften us up with nice promises and rape us thoroughly right after. We are worn out. We are confused. The last thing we need is a bomb blast. No, MEND. This is not right. Your timing is off. You chose the wrong venue. Ok, you shouldn't really bomb anywhere but if you must….
The juju of our taskmasters has worked on MEND. They have caused confusion in the camp of the afflicted. The target public and audience of the militants shouldn't be the overworked Nigerian trying to take a one-day holiday. And our birthday shouldn't be a day for bombs. We are all angry. We all have 'aggros' against our rulers. But we need to stay alive to fight. Killing one another is just what 'they' want us to do.
Will Jomo Gbomo please tell us how this bombing session will fix our roads when the people holding the purse strings of our comfort are not ready to release them?
I'm not happy with you guys in MEND o.
Paraga intelligence officers, and Bomb Squad my foot!
Now, will someone tell me why we should continue to budget hefty sums of money for our security agencies? Or didn't we budget anything for our Anti-Bomb Squad this year and the last? Did they use the money to buy starch for their uniforms and black polish for their shoes? Were they sleeping when they should be working or are they ghost agents? I guess MEND knew we have nothing to detect their bombs and that the men we thought would protect us are not worth the uniforms we sewed for them. Bomb Squad my foot!
There are also people whose job it is to gather intelligence, not so? So, where were they, fishing under a pretty girl's skirt or drinking 'paraga'? Those bombs went off in FCT for Christ sake, the seat of power, in the full glare of the world, with other countries' Head of States at risk. I am ashamed, angry and disillusioned. All those starched guys know how to do is frighten us off the roads with siren. Now MEND, small MEND, is whipping their ass. What is the worth of all the stars and eagles and noise around our security men if a few guys they told us existed only on laptops can embarrass us like this?
In my own view, what those security agencies have done to our psyche on Friday amounts to sleeping at your duty post while your boss is being robbed.