FOOTBALL'S HIGHEST PAID PLAYERS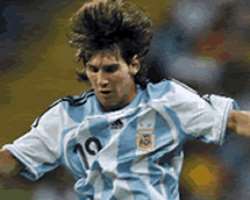 Messi (£29.6m)
Sports generally has become a big business venture unlike what it used to be in the past. Before this new 'vision', people who were into sports, whether boxing, judo, football, tennis, swimming or Ayo, etc., were considered as people who lacked focus in life. But the trend has changed drastically, as sportsmen and women are celebrated in every part of the world today even more than emperors.
Gone are the days when parents threatened to disown their children, who showed dexterity and interest in sports. Instead, they buy footballs, boots, bicycles, jerseys and more, as birthday gifts to their toddlers to clone them into following one sport or the other as they grow.
The reason for this change of attitude towards sports is not far-fetched. Over the years, people have realised that sports is an easy path to upward social mobility. Sports these days bring wealth and fame to those who take any of the sporting activities as career, and one can adduce that it is the fame and fortune that go with sports now that is motivating every Tom and Jerry to buy track suites in order to be counted among sportsmen and women even when the passion is not truly there.
When people hear the millions of pounds sterling some players rake in on weekly basis in the Premiership and punch their calculators to realise that some of those players earn more than some countries' annual budget, (this is minus their uncountable endorsements), they tend to see why they must take the plunge or at least, begin early to nurture 'Junior' in a particular sport and encourage him not to disappoint.
Today, Sunday Sunsports is bringing to your delight 10 players, who earn the highest amount of money in world football at the moment. Relax and enjoy your reading!
David Beckham is the richest football player in the world at the moment. Apart from the fortune he earns by playing in the pitch, commercial ventures in form of advert endorsements are raking in millions of hard currencies for the former England captain. Meanwhile, his five-year contract with LA Galaxy alone worth $250million, that is about £128million in just one deal. Beckham was the highest paid player in the world for about two years (2008-2009).
Lionel Messi, the Argentine and Barcelona playmaker took over as the highest paid player in the world after he helped Barca to win the La Liga and Champions League in 2009. The whiz kid is currently raking in a whopping £29.6million, about N7.475billion per annum, thereby pushing Beckham to the second position with an annual earning of £27.3million. But don't forget that Beckham's numerous endorsements and investments still give him an edge over others.
Messi has officially become the fourth highest earning athlete after Tiger Woods, Phil 'leftie' Mickelson and Cleveland's LeBron James. At only 22, the sky is in fact the limit for the wonder kid. Cristiano Ronaldo, the Portuguese captain and Real Madrid star comes in the pecking order after Messi. Ronaldo is currently pocketing £27million per annum. Just punch your calculator and see what the young guy earns in naira equivalent.
After Ronaldo, comes Kaka. The Brazilian and Real Madrid playmaker earns £16.9million per annum.
Thierry Henry comes next. The French star earned £16.1million a year while with Barca. He moved over to the US recently. Following Henry in the order of highest earners is AC Milan and Brazilian playmaker, Ronaldinho, who pockets £15.5million. 'Dinho is followed by, Argentine player, Carlos Tevez, who plays for Manchester City. He smiles to bank with his £13.8million yearly earning.
Zlatan Ibrahimovic follows in queue. The AC Milan maestro takes £13million. That is £.8m short of Tevez's income. Chelsea and England midfielder, Frank Lampard, earns £12.8million per annum, while Cameroon and Inter Milan deadly striker, Samuel Eto'o Fils rakes in £12.4million.
Eto'o is the only African in the list of 10 big earners among football players in the world.
Note, the top-10 highest earner's players' list contains two Brazilians, two Argentines, two Englishmen, one Swede, one Frenchman, one Portuguese and one Cameroonian.