Soyinka Launches Political Party, Declines to Contest Next Year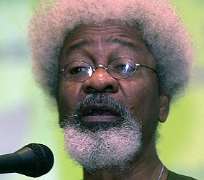 Nobel Laureate, Professor Wole Soyinka has launched his political party, Democratic Front for Peoples Federation (DFPF).
At the official launch of the party in Lagos, South-West Nigeria, Professor Soyinka said he was not contesting the 2011 presidential election, but the DFPF is launched to provide a platform for people of unblemished character who have been frustrated out of the Nigerian political arena due to its monetized nature.
Members of the new party elected him as its leader during the party's inaugural meeting this afternoon, Saturday, September 25.
The 76-year-old essayist, easily recognizable by a shock of white hair, later told reporters he wouldn't run as a candidate in the nation's 2011 presidential election.
Instead, Soyinka promised the party would use the power of persuasion and words to affect the outcome of an election many worry will be tainted by political thuggery, violence and ballot-box stuffing. But it remains unclear what effect a party that pledges to take in no money will have in a nation where stolen oil money fuels the whims of the political elite.
"It is an experiment... that directly challenges those who grumble that there is no platform, no springboard from which they can propose the political arena fresh and innovative ideas," Soyinka told those gathered at a Lagos hotel ballroom Saturday.
He therefore called on people of like minds to register as members of the party that will provides alternative for what he describes as a corrupt and morally bankrupt system.
"The nation is comprehensively sucked dry by a minority that is so lubricated that they slip out of grasp when their hands are caught in the till," Soyinka said.
Soyinka won the Nobel Prize for Literature in 1986, the first African honored with the award.
The convener of Save Nigeria Group (SNG), Pastor Tunde Bakare and President of the Campaign for Democracy, Dr. Joe Okei-Odumakin who attended the occasion, said the launching of a political party by Professor Soyinka is a welcome development.
Nigeria, home to 150 million people, has conducted a string of criticized elections since becoming a democracy more than a decade ago. Its 2011 election, scheduled to be held in January, likely will be moved back over concerns about having enough time to register an estimated 70 million registered voters. The nation's National Assembly meets Monday to discuss postponing the election.
Since the hand over in 1999 from military rule to a civilian government, Nigerian politics have been dominated by the ruling People's Democratic Party.