PATIENCE JONATHAN ON LEADERSHIP IN ANAMBRA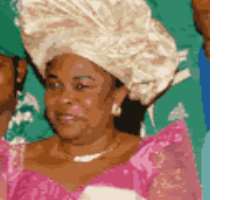 Patience Jonathan
Wife of the President, Dame Patience Jonathan did not mince words when she extolled Governor Obi's administration for effective implementation of Millennium Development Goals projects in the State. She stated at Nawfia Njikoka local government Area while commissioning the Neuropsychiatric Hospital and the Primary Health Care Centre that Obi remained the best gift God gave to the people of Anambra and South-East.
Dame Jonathan was happy that Neuropsychiatric Hospital Nawfia which is one of the oldest Neuropsychiatric institutions was presently a training ground for sixteen schools of Nursing and Midwifery including the Nnamdi Azikiwe Teaching Hospital. She was happy again that the Primary Health Centre is one of the four hundred and twelve centres built across the State by Governor Peter Obi's administration. After all, Obi's government came 1st position in the South-East and 3rd in Nigeria on successful implementation of MDG projects.
She again stated that Anambra State government has prudently utilized the 2007 and 2008 MDG funds in execution of various projects that are improving maternal health, reducing poverty and creating employment and promoting quality health.
She also thanked Governor Obi for remarkable success achieved in critical areas of health, water supply and youth development through the State Integrated Development Strategy - ANIDS. She again enjoined the Governor not to relent as there are more grounds to cover and urged him to carry along women and youth who can serve as volunteers. She announced that ambulances will soon be distributed to secondary health facilities to reduce infant and maternal mortality.
Obi was again commended by the Senior Special Adviser to the President on MDGs, Hajiya Amina Az-Zubair who said the transparent use of the MDG fund in execution of projects was further demonstration of Governor Obi's commitment to the welfare of the poor and overall development of the State. She lauded Obi on what she termed high quality of work and equipment used in the projects.
Hajiya Az-Zubair said they would continue to appreciate the partnership with the State which she noted was yielding the expected goals and observed that the State has made remarkable success is the eradication of polio and gone far in the implementation of the 2009 MDG projects.
On her part, the country Director of the United Nations Population Fund- UNFPA, Dr. Agatha Lawson assured that the Agency will soon recommence its activities in the State following unrelenting efforts and appeals by Governor Obi.
That was same way Governor Peter Obi got commendations from the people of Ogbaru and Anambra state citizenry when he announced the establishment of a Naval base in Ogbaru which he said the Nigerian Naval Authority has approved.
The porous maritime boarders will be checkmated when established .He has constructed ANIDS male acquisition center to train youths on various skills in many vocations including ICT, soap making and bakery as well as welding, carpentry, masonry , automobile repairs, painting, welding and other male related skills in Ogbaru. And that government would equally assist the trainees to establish their own business after training which is a plus to the Obi administration.
If Obi provides an alternative road from Atani to Ekwusigo local government area , it will decongest traffic snarls in Onitsha . The defection to APGA sometime ago of two PDP members of the house, Mr. Benson Nwawulu representing Ogbaru 1 state constituency and Mrs. Chinwe Nwaebili representing Ogbaru 11 constituency, at a colourful ceremony in Central School , Atani, Ogbaru local government area, Anambra State, is worth the effort of mobilizing for 2011.
•Oby Nwadiogbu-Odogwu is an Executive Officer of an NGO in Anambra state.