JONATHAN…SHIFT MAKE MAD MAN PASS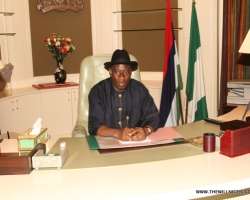 PHOTO: PRESIDENT GOODLUCK JONATHAN.

What happens when different people ask you the same question or pass the same comment?
My own and everybody's question, is Mr. President, sir, can you indeed conduct a free and fair election, can you deliver, are you the man?
I have just watched the drama of your declaration, listened to your speech and that of the governors seeking a second term ticket, all the praise and the promises. It's not new, I smiled, at the part where you talked about going to school without shoes...truth is that, it has not changed, it is still the same story.
My president...On October 1 Nigeria will be fifty, to that statistics is that fact that we are the world's fourth largest democracy. Instead of trying to be a world economy, we are battling to be in the world's top 20 economies by 2020, as if these countries would be waiting for us to get there.
You are not the reason for why Nigerian is where it is, but you are part of the problem, because today you are the president, you belong to a group that is largely responsible for everything that has been wrong with the system for 12 years now (PDP).
The list of what Nigeria and Nigerians are is already impressive. Happiest people on earth, most religious, between 2nd, 4th and 5th most corrupt in the world. These depend on the year and the indices used. One African in four is a Nigerian; Nigeria is larger than any country in Europe. It is also the world's eighth largest producer of crude oil and was once the United States' second largest supplier before Angola came.
My president recently you said that the nation required an approximate sum of N31 trillion ($200 billion) investment to achieve her economic goals. You told the opening session of the 10th meeting of the Honorary International Investor Council, HIIC, at the Presidential Villa, that the country was re-engineering its economic policies to position the country as one of the greatest economies by 2020.
You said that the government is undertaking key reforms include the areas of the Independent National Electoral Commission, power, oil and gas, banking sector as well as the capital market.
According to you sir, "Current estimates indicate that we require about N31 trillion or approximately $200 billion in investments to realise the economic transformation that we envision,"
Mr. President in some six months...most of us cannot remember when we queued for fuel and other economic spirits like Kerosene and Diesel. I even bought cooking gas for N2, 200. We believe that all these are not film tricks, where ketchup is same as blood. Because the truth is that you cannot do much about refineries which is the real issues.
We think, you are trying, we also understand that you cannot do it alone. However the state of affairs in Nigeria is beyond the level of trying...Nigerians need affirmative and purposeful leadership.
And as at today the fact is that Nigerians are not happy, most people that are supporting you are doing so under the euphoria of power must change hand, more like the cake must go round. Not because they believe in you. They are the same persons who sang for Abacha, Yar'adua, same guys that have been in every government.
Sir, is it not strange that you were part of a government, that gave Soludo a pass mark as head of CBN as he left to 'try his luck' in Anambra, now your own government says you are trying to clean the mess he created.
I can assure you sir, that Obasanjo, may be better than you in the end, and you better than you successor, not because you don't want to work, but because you may not work, or they may not allow you to, and certainly if the morning is anything to go by...you will just shift to allow the mad man pass.
Due to transformer wahala sir, I get electricity on a power sharing basis, but I cannot believe that it is almost constant. This is not the case everywhere because I know places that still do not know what PHCN or NEPA really does as an establishment. However that is a plus, but for how long will that be a guarantee, not long sir, until those that Haliburtoned and siemensed us are in jail.
MTN, GLO, ZAIN, ETISALAT and co. have shown that despite the rip off, we can all say hello to somebody each day, thus performing the burial rites of NITEL...can you preside over the same for PHCN and ensure constant power?
Mr. President a lot of us will never vote either Atiku or IBB, not even Saraki or Shekerau, Ribadu, and Buhari, maybe but we have been conned to believe it is not their turn. However you have not shown the initiatives on what it takes to turn the sleeping giant Nigeria around.
Many of us are not moved by your recent presidential moves in the defence and security sector, when our students are all at home, the ones at school cannot pass. Our doctors are downing tools in every state. And kidnap and murder, the order of the day.
Sir, you cannot do anything about the unemployment and youth related issues. The fact is that your party has no answers other than which zone gets what. After all when you win, and you party wins at the National Assembly, it will be back to the zoning status quo.
Mr. President it is not possible you leave PDP as a party, so after you win, using the PDP as a tool, can you leave them, go for mind baffling reforms, you may not succeed but it will remain on record that you tried. I know it is not possible...Not with the crowd at eagle square as you made your declaration.
Sir, your wife has converted the Ministry of Women Affairs to her personal estate as the Minister is everywhere with 'oga madam', I am happy that we hear little or nothing about your kids...but can you do anything about education...You are supposed to be once upon a teacher. The future of this nation is being mortgaged to illiteracy. Any hope for our kids?
Sir, I put it to you that you cannot do anything about the health sector, if you recall how your former boss died and all the brouhaha of Saint Jeddah Hospital...many of us thought that we would already have seen a blueprint for the health industry.
My president, you are spending N10B to celebrate our independence...while cholera ravage our nation? It's a shame!
My president, let me quote, Mr. Antonio Maria Costa, former UNODC Executive Director, "By some estimates close to $400B was stolen between 1960 and 1999...That is a staggering- almost astronomical- amount of money because if you were to put $400B end-to-end, you could make 75 round trips to the moon"
With this in mind, can you honestly answer us or me, how much has been stolen from when you became acting president till now...are you witch-wizard hunting anyone with EFCC, do you think that you can do well in restructuring that body for effectiveness and make public office a position of accountability and integrity.
Really what can you do...Nigerians are suffering expectation fatigue; they are tired of promises... What are your plans to bring accountability and transparency in government? We are tired of promises of free and fair elections, because you know that even your party epitomises the very opposite.
Mr. President...I wish you the very best in your desire to bring change, we are willing to work with you, but a lot of us will not near PDP with a long spoon, see what it turned the likes of Nnanami to...he is just one amongst many.
As you mad that declaration, many of us, watched as taxpayers monies were being wasted, lodgings by state contingents, out-station allowance, concubine expense, all the aso ebis and miscellaneous and the sycophancy...
To Nigerians, I dare say, Jonathan is not the messiah, we have heard all these noise before, all these politicians whose stock in trade is to turn the other way when they get power...they promise to eliminate mosquitoes, they give us malaria, they promise air conditioners on our streets but their stealing of public funds leave us in hot rage, until we shift make mad man pass, it will be difficult to distinguish between mad man and sane man.
Disclaimer:

"The views/contents expressed in this article are the sole responsibility of the author(s) and do not necessarily reflect those of The Nigerian Voice. The Nigerian Voice will not be responsible or liable for any inaccurate or incorrect statements contained in this article."
Articles by thewillnigeria.com