BBC Correspondent's Family Receives Death Threat In Lagos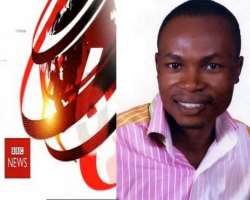 PHOTO: BBC WORLD SERVICE NIGERIA CORRESPONDENT, MR FIDELIS MBAH.

ABUJA, Sept 22, (THEWILL) - A correspondent of the BBC World Service in Nigeria, Mr. Fidelis Mbah today said his wife and son have received a letter threatening to kill them.
In a petition Mr. Mbah wrote to the Assistant Inspector General of Police, Zone 2, Lagos and made available to THEWILL in Abuja, the journalist said unknown persons in a Mercedes Benz ML SUV on Tuesday at about 0730 hours dropped off a letter addressed to his wife at the security post attached to his residence.
In the said letter, the unknown persons threatened to kill her and their son if she fails to a call a phone number provided in the letter for further instructions.
Mr. Mbah said however that he has evacuated his wife and son from their residence in the Ojodu-Abiodun area of Lagos.
The journalist further said that he was away on official duty in the Niger Delta when this incident took place and though he has since returned to Lagos, he has not gone back to the family residence.
"We are now refugees and cannot return to our house for fear of being killed as we don't know the motive of the suspected hired assassins," Mbah said.
Mbah said that he did not know whether the threat is connected to stories he had written in the past just as he noted that he was not aware of any personal differences with anyone.
"I have sent a petition to the Assistant Inspector General of Police, Zone 2, Lagos for further investigations," Mbah told THEWILL.