CHOLERA EPIDEMIC: FAR FROM BEING OVER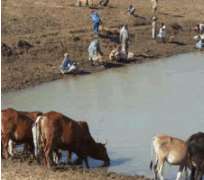 Ponds used by human beings and animals are breeding ground for the pathogen
When Abdul Hazzan (not real name) woke up in an unfamiliar room with streaks of sunlight seeping in through decrepit blinds, he became aware of painful moans from other people around him. The strong smell of disinfectants made the father of three realize he was in a hospital.
Abdul was diagnosed with cholera and as he drew in his first conscious breaths in 24 hours, he was jolted by the sight of intravenous fluids sticking from his left hand. Readjusting his position on the lumpy bed was a huge task due to dehydration and numbness of his limbs by the disease.
Abdul was rattled from his sleep in the middle of the night by stomach cramps. In less than 30 minutes, his body was taken over by violent waves of simultaneous vomiting and diarrhoea and he gradually slipped into unconsciousness. This was how he landed in the hospital.
Hundreds of people like him are either dead or lying critically ill in various hospitals scattered across 11 states of the federation. Like a gale of wind, cholera epidemic swept through the country, leaving in its path alarming death rate and hollowed eyed victims clinging weakly to life.
Cholera is a disease caused by a bacterium known medically as Vibro Cholerae. It can be found in human and animal waste. It becomes a disease when the pathogen finds its way into food and water meant for human consumption. Cholera mainly affects the digestive system and can be contagiously spread from infected persons through unhealthy environment and inadequate ventilation. The main symptoms are high fever, diarrhoea (profuse watery stool) and vomiting that lead to dehydration or death.
Cholera can be very fatal if not well treated on time. Children and the aged are more susceptible to death from disease. The recent cholera outbreak witnessed in Nigeria can be described as an epidemic of monumental proportion. So far, the death toll recorded in 11 states has been put at about 352, while the number of those infected has risen to 6, 437.
States presently ravaged by the scourge are Jigawa, Bauchi, Gombe, Yobe, Borno, Adamawa, Taraba, FCT, Cross River, Kadun, Osun and Rivers. Even though the epidemic was recorded in these areas, epidemiological evidence indicates that the entire country is at risk, especially with the discovery of virulent strain of the disease.
According to the Director of the Nigeria Institute for Medical Research (NIMR), Prof. Innocent Ujah, preliminary studies carried out by the institute in two of the affected states, Borno and Bauchi, found that the strains were virulent in nature and were resistant to some antibiotics, especially tetracycline.
'Unfortunately, we discovered that 10 per cent of the people in Borno State were resistant to the drug and this is a big problem for a drug like tetracycline. 10 per cent is a large number and this means that these people must change to another drug. But in an emergency situation, you may not have the luxury of going to look for another drug,' he said.
In the last quarter of 2009, more than 260 people died of cholera in four Northern states. When the Minister of Health, Prof. Onyebuchi Chukwu ordered immediate delivery of a consignment of intravenous drugs to Bauchi State to curtail further spread of the disease last year, he had identified water and sanitation as very important and assured of the federal government's preparedness to address them.
'Water and sanitation are very important elements in stamping out cholera, hence the FG will provide safe water supply and provide acceptable ways of disposing human wastes,' he had assured. That promise was never met until the epidemic struck again within the same states where it had been reported to be endemic.
Cholera outbreak is an indication of poor access to water and sanitation. The 2008 report from the World Health Organisation (WHO) and United Nation International Children's Fund Joint Monitoring Programme for Water Supply and Sanitation revealed that the proportion of Nigerians using water from improved sources decreased by three per cent from 1990 to 2006.
According to the Director of Public Health Department, Dr. Mike Anibueze: 'A quick survey by the Federal Ministry of Health revealed that less than 40 per cent of the entire population in the affected states has access to toilet facilities of any description. Thus, open defecation is the only alternative available to the people. Another major factor responsible for cholera epidemic is that about 66 per cent of rural dwellers lack access to safe drinking water. The wells where they get drinking water are usually without covers, and so, open to contamination.'
He further noted that the disease was endemic in most parts of the country, but that can often be manifested in epidemic proportion at the beginning of the dry season when people search for drinking water from doubtful sources. He also disclosed that cholera outbreak was always rampant during the rainy season when contaminants are washed into surface and underground water sources. He also attributed the outbreak to heavy rains leading to flooding in the affected communities.
This disclosure is a strong indication that Kano State, which is being hit by severe water scarcity, is at risk. Also, some communities in Ikosi-Isheri Local Council Development Area of Lagos State might not also be safe from cholera outbreak unless preventive and proactive measures are taken. This is because the communities' only source of water supply is the open river, and which also serves as their cesspit.
According to the WHO, more than 3.5 million people die each year from water related diseases. 43 per cent die from diarrhoea, while 84 per cent of deaths involve children between the ages of 0-14. An alarming 98 per cent of water-related deaths, the organisation disclosed, occur in the developing countries.
A 2008 report by UNICEF and WHO stated that 884 million people lack access to safe water supplies (about 1 in 8 people). Only 62 per cent of the world's population has access to improved sanitation, while more than 2.5 billion people lack access to improved sanitation, and 1.2 billion people have no facilities at all. Such is the case in various states in Nigeria.
According to medical experts, if people in the Nigeria's rural areas have access to clean water, proper sanitation and primary health care, water borne diseases like cholera would be curtailed. The recent outbreak of cholera in Nigeria brought to the fore, the need for a functional primary health care system in the country. It also shows the importance of basic infrastructure like portable water. The situation also raised salient issues about the various state governments' response to crises of this nature.
In Bauchi State alone, based on the official figure released by the Commissioner for Health, Mohammed Yahaya Jallam, about 67 deaths were recorded while 1700 were infected. But Daily Sun reliably gathered the number could be higher because many people reportedly died in their homes as hospital facilities were overstretched. The situation was worse in Ganjuwa, Bauchi, Toro, Shira, Kirfi and Tafawe Balewa areas because the people had no access to potable water.
In 2009 alone, cholera killed over 96 people in Maidugari, Biu, Gwoza, Dikwa and Jere council areas of the state. Most of the Northern states rely on hand dug wells and contaminated ponds as source of drinking water. Usually, the source of the contamination is typically other cholera patients when their untreated diarrhoea discharge is allowed to get into water supplies. Cholera is rarely spread directly from person to person.
According to experts, a surge in cholera outbreak becomes noticeable in rural areas during the rainy season when rainwater washes dirt into open wells and ponds relied on as source of drinking water.
In most cases, cholera can be successfully treated with oral rehydration therapy (ORT), which is highly effective, safe, and simple to administer. Medically, prompt replacement of water and electrolytes is the principal treatment for cholera as dehydration (loss of body fluid) occurs rapidly and can kill. When cholera is not yet at a critical stage, ORT can be prepared locally with salt, sugar and water, and administered. But in severe cholera cases, the administration of intravenous rehydration solutions might be needed.
The success of treatment is significantly affected by the speed and method of treatment. If cholera patients are treated quickly and properly, the mortality rate is less than 1 per cent. But with untreated cases, the mortality rate increases astronomically.
Recent epidemiologic research suggests that an individual's susceptibility to cholera is determined by their blood type. Those with type O blood are said to be the most susceptible, while those with type AB are the most resistant. Those with weakened immune system and are also malnourished stand greater risk.
Cholera exists as a seasonal disease, occurring mostly during rainy seasons. For a country like Nigeria were it is endemic, surveillance systems can provide early alerts to outbreaks, therefore leading to coordinated response. This can also improve prevention plans, as well as risk assessment for potential cholera outbreaks. Understanding the seasonality and location of outbreaks could also provide guidance for improving cholera control activities for the most vulnerable areas.
According to the Chairman of the Lagos State branch of the Nigerian Medical Association, Dr. Adedamola Dada, in an interview during cholera outbreak in 2009, the outbreaks reflect the country's weak primary health care system.
According to reports, primary health care takes care of about 70 per cent of health delivery, while secondary and tertiary levels attend to 20 per cent and 10 per cent of patients respectively. But governments in affected states have been known to establish tertiary hospitals when their primary institutions are in comatose.
The only solution finally advocated by Dr. Dada is, 'A primary health care that is strong, effective and available to all. We should be preventive, not reactive. It is a shame that people are still dying of cholera in Nigeria in the 21st century.'
Prevention
Although cholera may be life-threatening, prevention of the disease is normally straightforward if proper sanitation and hygiene practices that promote cleanliness are followed. Effective sanitation practices, if instituted and adhered to in time, are usually sufficient to stop an epidemic.
Environments should be kept clean, while food should be handled with utmost care. Proper eating drinking and safe toilet habits are the most effective means for individuals to be off limit to cholera. There should be proper disposal, treatment of infected faecal waste water produced by cholera victims and all contaminated materials e.g. clothing, bedding. All materials that come in contact with cholera patients should be sterilized by washing in hot water using anti-bacterial agents.
After handling cholera patients, hands should be properly washed with anti-bacterial soap or disinfectant. Warnings about possible cholera contamination should be made public immediately and sensitization campaign on how to avoid infection intensified. Water purification is very important. All drinking water from wells or boreholes should be boiled to kill the bacteria and other germs. This should become a routine in every home. Boiling of water should be done until millions of bubbles, ferociously come to the surface of the water.
Treating drinking water with chlorine will also help to kill any form of bacteria. People should make washing of hands with soap and water a habit before eating and after using the toilet. Hands should be allowed to dry as napkins and towels usually harbour germs.
Always wash fruits with lots of water and salt. It is advisable to scrub if they are root vegetables like carrots. Leafy vegetables should be washed severally with plenty of water and salt, as they most times carry animal wastes from the farms.