I'M DISAPPOINTED IN NIGERIA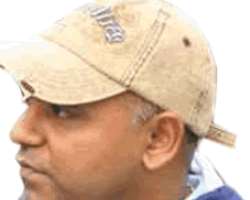 Kalika
Simon Kalika was recently in Nigeria with the hope of getting a job along with his friend, Samson Siasia, but he went back to Holland with tales of disappointment after the Nigeria Football Association (NFA) decided to advertise the position of Super Eagles' coach to attract fresh candidates.
Expressing his disappointment to Daily Sunsports from his base in Holland, Kalika said he was surprised to hear that the position would be advertised after the NFA had almost concluded talks with Siasia on the terms of the contract.
According to him, he never expected that the negotiations between Siasia and the NFA would drag for too long before he gets the job considering his achievements with the under aged teams in the country.
Kalika said he has already put the disappointment of not getting the Eagles' job behind him and has started looking forward to a bright future in his career.
'Eagles' job or not, life continues. It is just unfortunate that the Nigeria FA had to behave like that. All over the world, coaches are picked professionally by their FAs and not by advertising the job. They call upon the candidates and talk to them on terms of the contract, but the Nigerian situation is not like that,' Kalika stated.
'Siasia and I are still talking and I believe that he is the right choice for the job. They started the process on a right note, but they later turned the whole thing upside down. It's basically unprofessional,' he lamented. Kalika, whose coaching relationship with Siasia started since 2005 during the FIFA World Youth Championship in Holland, said it's confusing the way things have been going in Nigerian football, with court cases everywhere to determine who heads the NFA. According to him, that aspect alone had remained a clog in the wheel of football development in the country.
He said that Siasia had planned to rebuild the national team by bringing in some youthful players into the team. 'Definitely, there's no time to build a new team now since they have started playing in the Nations Cup qualifiers. Complete overhauling of the Super Eagles would have taken place immediately after the 2010 World Cup fiasco.
The new Eagles would have comprised of some players from the national Under-20 and Under-23 teams, but now, I don't think it is possible to build a new team,' he said. 'Nigeria has quality players, who can stand the test of time. To some extent, I know the mentality of an average Nigerian player because I have been working with Siasia. 'We are still watching the situation, we hope that things will eventually go the right way. But we can't descend too low because we want to coach a country like Nigeria.
'Although I have offers from Zimbabwe and other countries, Nigeria is still a place of my dream,' he said.
Kalika described his relationship with Siasia as wonderful.
"We have a close relationship, but football is the main thing that binds us together. Samson (Siasia) has big experience as a former player, while I possess a huge coaching experience. That's why any time he has a big assignment he always look for me because of my expertise.
'Samson was a success as a football player. His knowledge of the game is awesome. You don't need to wonder so much about that as his record as a professional player speaks volumes about how great a striker he was in his active days. That could be exemplified by his sublime finishing against Argentina at the USA '94 World Cup, which for me is one of the greatest goals in the history of the competition. Both of us look at football from the same angle. That is why we are quite compatible with each other.
'The truth is that my drive or decision to work with Samson is not about money. Like players and other human beings who have dreams, I endeavour to work towards my dreams and visions. That is what I stand for. The two of us are now getting popular by the day because of what we have achieved together in the past and I believe that we will get to the zenith very soon.
"I am ready to work again with Samson like both of us have done in recent the past. We have had different discussions and our aim is to take Nigerian football to the next level. Nigerians want to see the team play attractive football. They want to see fine attacking game and a team that is ready to play with intent, and that is what we are aiming at.
'I also believe a lot has to change about how the game is run in Nigeria. The right people must be allowed to manage Nigerian football. Administratively, everything must be done to ensure the progress of all the national teams."
The Dutch coach said he's planning another trip to China as part of his project to impact coaching knowledge to coaches in that country. According to him, China had always shown great interest in benefiting from football like Nigeria had benefited from Siasia.