PDP Illegally Used My Song In 1999 – Monye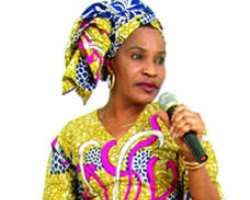 Stella Monye was a sort of teen prodigy who dominated the entertainment scene with her Afro-pop style of music.
Many will remember Miss Monye for her evergreen songs, "Oko Mi Ye", " Ife ", to name just two, and not forgetting her infamous romance with late gospel singer, Evangelist Sunny Okosun. Stella Monye is still very much around. Morakinyo Olugbiji in this interview with the 'Samba Queen' as Stella is popularly known got her opening up on important issues. Excerpts:

You are one of the few singers of your generation still very much around. What have you been doing all this while?
Like you said, I have been around and when people ask what's been happening to me, I'm surprised, because I've got so much to do in recent times. I went to do some social service work for like 5 years now, but I did not digress from what I know to do which is music. We take music along with some activists on road shows and more, instead of just preaching or just reading some scripts; we use music as a vehicle to reach people. It has opened my eyes to so much suffering that Nigerians are going through in their fatherland. If people like us who are in the limelight could have our own ups and downs, then what's an average Nigerian, who has no social security, job, shelter, to do? I mean it's just bad.
So, what about your music?
No, in fact it was while I was with the civil society that a lot of people were asking 'when are you going to give us another album?' So I went back into the studio and recorded this album titled "Outburst". The album is a limited edition and a project album on women empowerment. My aim was to take the album to campuses and talk to young girls that they need to focus, to let then know that they cannot afford not to be responsible because even women in other countries are president. Women are supposed to be responsible people and contribute largely to the development of a nation. The project has not taken off yet because we are still trying to wrap up the sponsorship deal because to move around the country is a large responsibility, to take entertainment along with it is also a large responsibility. It's along that line that I also came up with a monthly show called the Huk up show. Every first Friday of the month, we go to a venue. All those female artistes that don't have anywhere to show case their talents now have a place to came to and play. We do have important personalities in the house to watch them perform. So, it's been really wonderful and it's open to all the women entertainers and members of the public have fun and make friends.
Tell us about your clothing line, "Samba wears"
Yes, the clothing line thing is a family thing. My mother was a tailor for about 30 years, and I really never took interest but along the line, I was helping her to fix things, like putting buttons in the holes and other aspects of the job that are not too stressful. But later on, it began to occur to me that I could do that as well. The urge started when I traveled to Abeokuta and I saw a lot of traditional Adire fabric. I know that African fabrics are really beautiful, but Nigerians are not using them to the maximum. We still prefer what the white men are importing into our country, so I just thought I could make a little impact. I brought some tailors together and we are in business. We make a lot of Nigerian dresses and export them abroad. I'm already working on exhibiting them. I am going to start by partnering with the Ogun State Ministry of Tourism and it is going to be huge.
What's your opinion about the kind of music being done right now in the country by the new generations of musicians?
Well, there is nothing new that they are doing now. What I mean by that is that you will find out that music is all about the same alphabets, it's the same rhythm, I've listened to some of their stuff and I've come to realise that some of such songs are actually a recycled from old songs; like what Timaya and J. Martins do have a kind of Rex Brackets do; 'Yori, Yori' 'Ade Owerri' for example have a highlife feel. P Square also does the kind of old Nigeria pop. And I also hear some high life from D'banj. A few of these new singers are fantastic, while a few of them also sing garbage.
What else can you tell us about your album, "Outburst"?
I have some few tracks in the album. There is this very strong track named "Elefe" which is the real project track of the album. Also we have the remix of my old songs "Oko mi ye", " Ife " and "Kilode". Because people stop me on the road and say they can't get those songs again as it's been long since they came out, so I did the song because of them and the album is only available in select outlets like the Silverbird Galleria. You can easily get a copy there.
Like how many albums do you have till date?
Six albums; the first album was 'Mr. Right' which has the hit song, "Oko mi ye". The next one was "Samba" which earned me the title "Samba Queen". The next one was "Change of Heart" which was the song "Kilode". Another one is "I believe" which didn't really do well because of the poor marketing structure I had at that time, but it was a good album. I also did "One Nation" which ended up a campaign material during the Obasanjo era. I never got anything for it, but they were using it to campaign when Obansajo wanted to contest in 1999. And I have "Outburst; the recent one. It was self produced.
PDP used your song "One Nation" to campaign for Obasanjo in 1999, without your consent. Did you approach them or take them to court?
I'm not a politician and I have never been. I don't like politics and the only reason I'm beginning to look at politics now is because I feel if you can not go and make certain changes, then don't criticize. So, I said okay.
So in which of the campaign exactly do you want to serve and which of the parties?
It depends. Right now, I'm not a member of any party but I intend to join a party soon, because that's the only way I can actualize my dream. I'm still looking for an honest strong party to join.