GIRLS INSPIRE ME TO WRITE GOOD SONGS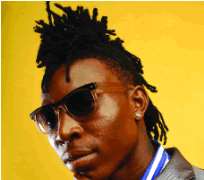 Solidstar
Ever since Joshua Iniyezo popularly known as Solidstar released his runaway hit single, One in a Million, the 21 year—old musician from Isoko in Delta State has been having it good.
Priding himself as the first debutant in West Africa to release an enhanced audio compact disc which consists of a CD, 2 videos, wallpapers and ringtone, the 14- track album of the R&B singer featured some of Nigeria's finest producer and artistes like 2Face Idibia,  W4, Ill Bliss, Clever Jay, Catier, Jacuzi and a young Africa American rapper, Breezee.
Solidstar's most recent video entitled, Confused is also enjoying massive airplay on cable and TV stations across the globe. Having recently returned from a radio tour, Solidstar would officially launch his album in different parts of the federation starting from Lagos on September 22, followed by Port Harcourt on September 24 and the following day in Calabar while Benin would be for September 28. The launch will round off on October 2 in Abuja.
Signed onto Achievas Entertainment, Solidstar opens up to Blockbuster about his life, music, and why he sounds like P-Square among others. Excerpts:
Background
My names are Joshua Iniyezo, I am from Isoko in Delta State. I grew up in Ajegunle, Lagos with my late grand mother and I never had the chance to grow with my parents and it was while I was with her that my late grandma gave me the name, Solidstar.
She was a prophetess in a church which she owned back then, and one day, she told me that there is something that she sees in me that would make me a superstar and that I will shine very well in Nigeria. After that, good things started happening to me, my manager, Ossy discovered me and started preparing me for what I am today.  I thought of a name to give myself and I remembered what my grand mother told me about becoming a star so I said Solidstar would be it and that was how I came about the name.
Music career
I never knew I would become a professional musician, but I always knew I had the music in me as I could play drums and so many other musical instruments. It got to the extent when people started telling me that I have what it takes to become a professional musician, so after my secondary school education, I just made up my mind that music would be the next best thing for me.
On inspiration
First of all, I would say God inspires me to write good songs and things I see around me also spur me to go the extra mile in writing my songs.  Also, girls inspire me to write good songs.
Why I sing like P-square
I never came across P-Square while recording but the person who mastered our songs is also the same person who mastered P-Square's songs and that is Zenno Forster so it is just like a spiritual thing, the message from our album and theirs are two different things from different inspiration and we never heard them when we were doing ours. Their album was already out when ours got to Zenno Forsters' studio, people even asked us the same question when we got to Port Harcourt asking us why our songs sounds like that of P-Square, we only told them such happens in music.
On Tuface
Tuface is a good friend to Ossy Achievas and when I did the song, Confusion I did just two verses in the tracks and at that point I thought about featuring a star in my album and since Tuface is my role model, I told Ossy about it and he introduced me to him and we started  hanging out. He later invited me to his 10th anniversary in Abuja and after we came back from the trip, I gave him the CD and he listened to it and told me he would do the collaboration with me. The rest they say is history.
Confused not a beef
The song Confused was already out before 9ice and Toni Payne started having their marital problems and we have done that song a whole year before they broke up and it was just underground. We shot the video last year. I did the song based on a true life story but not about them in anyway but about a friend of mine who also shared the same fate long before theirs started. Both 9ice and Ruggedman have not said anything, it is just Toni Payne who is making so much drama on why her name must be mentioned, but thank God we are clearing the air about the whole issue
Future plan
I would want to see myself as a king sitting on top of my game and doing my fans proud with each new album that I drop.