2011: JONATHAN DECLARES AMBITION ON FACEBOOK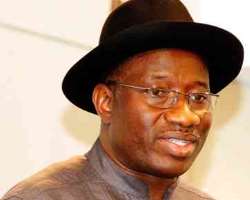 At last, President Goodluck Jonathan has declared his intention to contest the presidential election in 2011.
Jonathan, in a message on his Facebook on Wednesday, said he had finally decided to run for the presidency after wide consultations with various organisations across the country.
He, however, said his formal declaration would hold in Abuja on Saturday.
Apart from announcing his decision on Facebook, the President also told members of the Federal Executive Council at their meeting on Wednesday.
In the message, the President said he would have declared before then, but was preoccupied with state matters. He added that doing so earlier would have negatively affected the running of government in the country.
Jonathan wrote, 'Today, I confirm that after wide and thorough consultations spanning the six geo-political zones that make up Nigeria, with members of my family, my party, the opposition, civil society, the private sector, members of the labour unions, religious leaders, youths and student groups and our revered traditional institutions, I, Goodluck Ebele Jonathan, by the grace of God, hereby offer myself and my services to the Nigerian people as a candidate for the office of President in the forthcoming 2011 elections.'
Jonathan described the period preceeding his assumption of office as a trying moment, for him in particular and the nation as a whole.
The President said his task had always been to give the nation purposeful leadership and to focus on the priorities of 'our administration in order to maintain national peace and stability and pursue our key development priorities.'
In the last few months as Nigeria's leader , he said, he had concentrated on managing the affairs of the nation and resisted all efforts to respond to the 'drums of partisan politics.'
Jonathan said he would not pretend to have answers to all the problems bedeviling the country.
He, however, said that if elected in 2011, he would make a covenant with Nigerians to always do the right things and tell the truth.
The President also promised to carry Nigerians along and to listen to them before making decisions.
While stating that he would not make promises, he asked to be judged by his records.
He said, 'My team and I made no promises on adequate fuel supply in Nigeria.
'We simply did what was expected of those who govern, we delivered it, and you are living witnesses to that. We made no promise to revamp the textile industry.
'We delivered a bailout package worth N150bn that is being dispensed as I write. We made no promises of securing the highest United States Federal Aviation Administration clearance, the Category 1 Certificate, which enables Nigerian registered airlines to fly to any US city.
'We delivered. We made no promise to give Nigeria a brand new Independent National Electoral Commission under a proven God-fearing and incorruptible leader. We placed Nigeria first and delivered.
'We made no promises of protecting your loans, deposits and investments in the banking industry over and beyond what is covered under the Nigerian Deposit Insurance Scheme.
'We delivered it via AMCON (Asset Management Company of Nigeria). Rather than tell you what we could do to improve power, this administration demonstrated it by initiating a brand new national Super Grid as well as launching a concrete Road Map to the Power Sector with realistic goals tied to realistic dates.
'I understand from some of your mails that there has been some small improvements in electricity supply in some communities.
'We met an economy that was beginning to slow due to the global recession. Today, the economy has verifiably grown by seven per cent this half year ending in June.
'I know you are tired of empty promises, so I will make only one promise to you today.
'The only promise I make to you my friends, fellow citizens and Nigeria, is to promise less and deliver more if I am elected.
'I call on you to join me to work together in harmony and synergy to forge a nation where we understand our differences instead of pretending they do not exist and work towards a perfect union founded on transparency, equity and justice.
'A nation that is on her way to repairing her international reputation and project to the world that things have changed and the people of Nigeria have now taken Nigeria back from a few into the hands of her people who are eager, very eager to pull her weight in the forward movement of the African continent and the world in the pursuit of peace, prosperity and happiness.'
He called on Nigerians to always remain united, as this was the only way to move the country forward.
The Minister of Information and Communication, Prof. Dora Akunyili, also told journalists at the end of Wednesday's FEC meeting that Jonathan informed members of his intention to vie for the nation's most exalted position.
She said, 'Mr. President formally told the council that he would declare his intention on Saturday, September 18 to run for Presidency.
'He also took permission to travel to Sokoto and Kebbi due to the situation report he got from the minister of state for works, who visited Sokoto yesterday (Tuesday) to commiserate with the flood victims.'
THE PUNCH gathered that the President's announcement was greeted with applause from the FEC members who assured the President of their support.
The choice of Facebook, which immediately attracted all the international newswires to the story, is an indication of the growing power of social media in governance
Full text of Jonathan's declaration on page 6