CLIJSTERS EYES OTHER GRAND SLAMS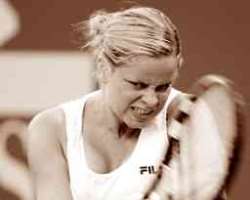 clijsters
Kim Clijsters has set her sights on winning one of the other Grand Slam titles after a third US Open victory.
The Belgian, 27, beat Vera Zvonareva 6-1 6-2 in just 59 minutes to defend the title she also won at Flushing Meadows in 2005 and 2009.
Clijsters has lost in the French Open final twice and the Australian Open final once.
'I'll try everything I can to be in the best shape possible to try and achieve what I've achieved here,' she said.
'They all motivate you in a different way. Tactic-wise you always have to adjust a little bit to each and every single one of them.
'But I think the one where I've felt I can do better than I have is obviously at the Australian Open. Similar surface.
'I've always enjoyed playing there. That's obviously a Grand Slam I want to do well. I want to do well in all of them, of course.
'Wimbledon is the one where I'm close to because I have the connection with my dad there because he enjoyed it there. I always want to do well there, as well.
'The French Open feels like playing in Belgium because we have so many Belgian people supporting us. We have the history of a lot of past Belgians who have won there.
'They all have a different impact on the way you feel and a positive impact and I think that's something I want to use when I go back there next year.'
Clijsters returned to tennis last year after a spell in retirement and claimed victory at her first Grand Slam event in New York.
In her time away from the game she got married and had her first child, and the Belgian admits that family obligations and fitness will dictate how long she continues to play.