OGUN ASSEMBLY MEMBERS PASS VOTE OF NO CONFIDENCE ON GOV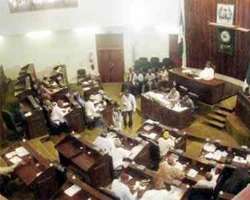 Another four of the lawmakers also belonging to the Group of 11 who participated at the Monday sitting of the nine legislators that suspended Egbetokun and the others were also suspended for three months.
The former Speaker Mrs. Titi Oseni and Chief Omosanya Solaja whose earlier suspension by the House was lifted by the Group of 9 legislators were dismissed from the House and their seats declared vacant with a directive to the Independent Electoral Commission to conduct bye-elections to fill the seats.
Those suspended indefinitely are Mr. Soyemi Coker [Speaker] Mr. Ayo Edwards Odugbesan [Deputy Speaker], Mr. Durotolu Bankole and Mr. Oluseyi Moses while those suspended for three months are; Mr. Musa Moroof, Sunday Kojeku, Emmanuel Adegbesan and Salmon Adeleke.
The sitting of the House which was done at a Secondary School in Ijebu-Ode which had all the 15 lawmakers in attendance also insisted that House Resolution 167 barring all financial institutions from granting any loans or overdrafts to the State Government was still subsisting.
Moreover the sitting said that it was regarding the alleged Monday sitting of the Group of Nine legislators as not to have taken place and as such all decisions taken at the said meeting was null and void
Majority Leader of the House, Mr. Michael Sewedo Fasinu who spoke with Vanguard said that the decision of the House to sit was based on precedents because the House had sat twice at the Cultural Centre to deliberate, even with the Governor present were it was proven that the House remain where the mace is placed.
He said 'the mace is the authority of the House and when we sat at the Cultural Centre, legal luminaries had pointed out that it was right because anywhere the authority of the House is where the House is. And we have the authentic mace.
'We also decided to sit on our normal plenary days instead of the Monday which they allegedly sat and we took all those decisions and passed a vote of no confidence in Governor Daniel because he was the one behind all these things; we have traced the incident to him; he supplied the policemen who followed them and broke into the House and he has been gallivanting all over the place with Soyemi Coker, his Speaker, in tow.
'Apart from suspending the eight as earlier said, we still want to emphasize that the House resolution 167 barring all banks and financial institutions from granting loans to the state government remain in force and that those who were said to have been cleared as Commissioners and members of the State Independent Electoral Commission [SIEC] have not been cleared by the House.
'We want to emphasize and declare that we consider that there was no sitting on that Monday, because Monday was not our sitting day; we sit only on Tuesdays, Wednesdays and Thursdays and we consider it absurd for those people to sit on Monday when we have not suspended the House Rules
'We decided to declare the seats of Mrs. Oseni and Mr. Solaja vacant because we already have a court judgment upholding their suspension before the joined others to break into the House to and do all that they did and we decided to leave Fasiu Bakenne off the hook because he actually did not participate at the sitting; in fact only eight of them sat on that day.'