Freedom For Corrupt Public Officials Will Derail Growth – Sule Lamido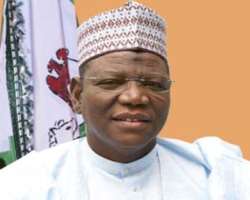 PHOTO: JIGAWA STATE GOVERNOR, ALHAJI SULE LAMIDO.
DUTSE, JIGAWA, Sept 05, (THEWILL) - Governor Sule Lamido of Jigawa State has stated that if corrupt officials walk around unpunished for their offences, the much anticipated national growth and development will continue to elude the country.
Lamido spoke in Dutse at a roundtable discussion to mark the 19th anniversary of the creation of Jigawa State.
"Look at the case of Nuhu Ribadu who was disgraced out of office and declared a fugitive and later same government recalled him praising him and commended him at the end of the day. The case of James Ibori is also something to worry about as he was declared clean and later on re-arrested for money laundering."
Gov. Lamido said, "Nigerians must chat a new course to have a national benchmark. It is one sure way of eliminating corrupt tendencies in us.
"It is here in Nigeria that a corrupt office holder was arraigned before a court of law for corrupt practices and even pleaded guilty, but the person was set free and even elected a lawmaker to be promulgating laws to punish ordinary thief of a goat or a pick-pocket. It is a shame and disgrace," he lamented.
Lamido attributed the country's backwardness to the loss of values and character in doing the right things especially as it affects the handling of public office.
"For us to progress as a nation of the black race we must do things our way. But as far as we copy the West, our effort in rebranding will never see the light of the day. There is no election rigging in the history of the United States of America. But in Nigeria, it is a common phenomenon."
Lamido however frowned at the entire system, alleging that those in leadership positions in the country misuse their vantage positions to create confusion. He chided those at the country's helm of affairs for corrupt practices, stressing that corruption has adverse effect on the economy of the country.
Coincidentally, the Lamido-led Jigawa administration is currently being investigated by the Economic and Financial Crimes Commission (EFCC) for various corrupt practices.