Ghanaian Actor MAJID MICHEL lied!: He should apoloGiSe tO Nigerians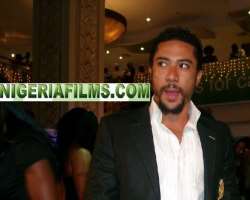 Hearts were broken when the actor announced that he had received a threatening sms telling him to stay out of Nigeria else he would be sorry for himself.
The actor was quoted saying because he feared for his life,he would stay away from Nigeria .
Sad right? Well I have good news for you!
Well, the word is going round and it seems this actor deliberately fooled Nigerians and gave us a bad name afterall!
According to olofofos who spotted him departing Nigeria on monday august 9,2010 (after attending the premiere of bursting out where he played a major role alongside actress Genevieive Nnaji) cried out ''Majid lied!

Majid was not threatened, he made it all up and his reasons had to do with the fact that he wanted out of Nollywood movies for a while because of the part 1,part 2,part 3 syndrome:This is the authentic reason and nothing else''.
Please if you know this actor who got his original claim to fame via Nollywood movies, tell him he needs to apologise to Nigerians for the cheap stunt he played on us all.
Will majid take my advice to apologise?
Our forefathers say
''A man who is advised and he takes it, is still a man who acts from his own free will''