RISING FEAR IN BORNO OVER MYSTERIOUS KILLINGS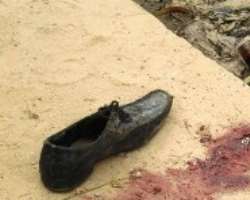 His medical certificate showed he died on Saturday, July 3, 2010 from multiple gunshot wounds. Weekly Trust's investigations revealed that the wife of the deceased, Fatsuma, who has now returned to her husband's home town, Gombe, was pregnant at the time and further checks revealed that she given birth to a bouncing baby boy, two weeks ago, bringing to four the number of children the late cop left behind.
Next was Sergeant Mohammed Danbanjo who until his death was attached to the Mobile Police Unit 6. On the fateful day (July 17th, 2010), he had returned home to his family's residence at Bulunkutu Abuja in the outskirts of Maiduguri metropolis. Around 7.30pm, three men who were said to have come off a motorcycle, exchanged pleasantries with his 10-year-old son and asked him to call his father. Thinking they were friends, he rushed in to call his late father, only for them to fire shots, killing him. Residents said that the assailants even entered his house to search for a rifle, but could not find one.
Less than a month after the death of the sergeant, one Corporal Ahmed Masama was shot dead on Sunday, August 15 around 11pm at close range by three persons, again on a motorbike. His rifle was also taken away. At the time, he was on duty at a microfinance bank near the Maiduguri Monday Market in the city centre.
The police discovered three cartridges at the scene and said investigations were on-going, alleging that the perpetrators were hoodlums who trailed him on a motorbike from the Bulabulin Police Station where he had just signed out to report at his beat.
So far, within Bulunkutu-Gomari axis, four persons were killed in similar manner. The latest in the chain of killings and dispossession of arms are Inspector Shettima Mustapha and newly decorated Corporal Ahmed Mohammed, of Bulunkutu Divisional Police Station in Jere Local Government Area, outside Maiduguri city. They were attacked and killed around 9.15pm on Wednesday, August 25, 2010 beside the Gomari Central Mosque.
Borno State Commissioner of Police, Ibrahim Abdu, who confirmed the incidents to Weekly Trust said the inspector and the corporal had earlier booked at the Bulunkutu Divisional Police Station and were on their way to their beat at the Gomari bus stop for the routine stop-and-search operation as well as the enforcement of the ban on the movement of motorcycles, which was recently extended to 10pm. 'They were on a motorcycle. The inspector was riding with the corporal. As they were moving, unknown to them, two motorcyclists were trailing them from behind. They came very close, opened fire and killed them. They shot them from behind,' Abdu told newsmen.
Weekly Trust gathered that four unidentified persons, dressed in black overalls, rode on two motorcycles and used one of their motorcycles to block the path, causing the cops to fall, and then fired rapid shots on them at close range, before whisking away their rifles. Police sources said they recovered sixteen shells of used ammunitions.
The sources told our correspondent that two of the unknown persons immediately took up alternate positions as the deceased officers tried to flee in different directions before firing at them. 'I think they had been trailing the police officers because immediately they swerved across their path with one of their motorcycles, two of them who shot commando-style, took up positions in separate directions of the fleeing officers and shot at them until they were sure they had died. The hit took about 12 minutes. One of them then fired repeatedly at the fuel tank of the motorcycle beside the drainage possibly to cause an explosion,' police sources said.
The commissioner said the police had made efforts at tracing the culprits, maintaining that initial police investigations were pointing in a particular direction, following recent incessant killings of policemen in similar pattern. 'But we do not want to disclose and pre-empt investigations. The SSS and military intelligence are assisting us. The security outfits are all working together to see that the perpetrators are brought to book,' CP Abdu assured.
Our correspondents observed that all the merciless killings took place with the use of motorcycles at night-time despite the law restricting motorcycle operation in the state from 6am to 10pm, which is now being enforced by the police based on a motorcycle administration law passed by the state House of Assembly.
Many theories abound as to those responsible for the serial killings. There are speculations that the killings are reprisal attacks on the police by the Boko Haram sect in revenge for last year's casualties suffered by their men during the sect's uprising against constituted authority, causing the death of over 1,000 persons and injuring many, as well as causing the loss of property.
The stop-and-search security checks currently on-going in Maiduguri metropolis and its environs was also instituted over two months ago following the purported one-year anniversary of the death of the sect's leader, Mohammed Yusuf, and the unrest last year as claimed in the emerging video of Abubakar Shekau, then second-in-command to late Yusuf, and now commander, where he called for a new uprising and vowed to retaliate the killing of his followers in Maiduguri and other places. Weekly Trust also recalls the broadcast of footage by Al-Jazeera International in February this year, showing video clips of persons in clearly identified police officers' uniforms ordering the killings of unarmed civilians during the sectarian crisis.
But the coordinated killings are not restricted to police officers alone. Barely one month after the first killing, on August 1, 2010, one Usman Saidu Misali, an instructor at the Borno State School of Nursing and Midwifery located on Damboa Road in Maiduguri metropolis, was killed by two unidentified persons at Dala Alamderi (beside Bulunkutu Abuja) around 10.28pm, shortly after returning from his patent medicine store which he operates around the bus stop in the area. Neighbours, who spoke to our correspondents, said they heard gunshots around that time but feared it was an armed robbery incident. There are also unofficial speculations that he was a police informant and had in the past reported suspected Boko Haram members to police authorities.
However, the then Police Public Relations Officer, ASP Isah Azare, who confirmed the incident, said police investigations revealed that the deceased was hit by a stray bullet from armed robbers who had succeeded in robbing the wife of one Babagana Abba. The police spokesperson said it was while they were shooting sporadically to scare people in the area that a bullet hit late Misali, adding that five persons have been arrested in connection with the killing.
Family sources, however, said that the deceased was shot by two unidentified persons outside his residence. They said the deceased had walked past two suspicious persons as he walked onto the street and went to discuss his suspicion with a neighbour whom he met standing outside. Shortly after, the neighbour retired into his residence and the two unidentified persons walked towards the deceased and shot him. They said his dead body was discovered by policemen on patrol in the area in the early hours of Monday morning who in turn, informed his family.
An elder brother to the deceased, who said he was phoned and told about the incident around 1am, told our correspondent that the persons couldn't have been armed robbers because if they were, they would have stolen the relatively large sum of money and a handset from the deceased, which he said he later removed.
Just recently, the ward head (Bulama) of Bulabulin Alajiri, Bulama Hassan was on Tuesday (August 31, 2010) also shot dead by two assailants who rode on a motorcycle. He was said to have been shot right in front of his residence in the outskirts of Maiduguri metropolis of Borno State around 8.30pm. This is coming barely after last week's killing of two policemen at Gomari.
The pair of assailants were said to have gone past his house thrice on a motor-bike before finally shooting at him and speeding off. A neighbour who spoke to our correspondent said they were all seated at the scene after observing their Isha'i (last Muslim prayers for the day) and Tarawih, an extensive prayer during Ramadan. 'I stood up and went into my house. Shortly after, I heard gunshots. I rushed out to find him in a pool of his blood. He was still alive at the time and we reported to the Divisional Police Officer (DPO) of the area who instructed his men to convey the victim to the hospital,' he narrated.
Weekly Trust learnt that Bulama was also said to have provided the police with information that led to the arrest of many members of the outlawed Boko Haram sect in his domain.
Police sources who confirmed the incident said the late Bulama was shot in the arm and thigh and could have survived if he had received urgent medical attention, but he bled to death as he was left unattended at a public hospital. Anonymous senior police sources said that from all indications, the attack is similar to that of the syndicate who have recently been killing and snatching the rifles of police officers. Another man named Bulama was also shot in similar circumstances at Mainok in Konduga Kocal Government Area, but he was lucky to have escaped with bullet wounds.
A day after the latest killing of two policemen, the Borno Police Command summoned an emergency meeting of all DPOs, a move which sources say was strategically motivated to seek ways to nab the culprits. Weekly Trust reliably gathered from sources that the initiative has already yielded positive result as some persons were recently arrested at the Baga Road Fish Market in connection with the latest killings.
The sources said the arrested persons were caught after they were overheard discussing the success of their latest outing where two policemen were brutally killed and their rifles snatched. The DPO of the area was said to have acted swiftly, arresting the suspects. No official information has been issued on the matter.
Investigations in Borno by our correspondent revealed that police officers in the state appear to be carrying out their duties with extra caution. Police sources say those undertaking stop-and-search operations have been briefed to employ additional security measures. Others have also started making efforts to seek transfer to other states because it appears that even they who should secure property and lives can no longer be guaranteed their own lives.
A security chief told our correspondent that already the police are revisiting their schedule of operations and have rearranged the schedule guiding operations of police officers so as to reduce their exposure to risks as some of the officers were attacked in the dark while going to or on duty.
Senior government sources reveal that plans have reached advanced stage to re-introduce Operation Flush, a security team introduced in the state in 2009 to curb criminal activities to intervene on the matter. Refurbishment of the 68 vehicles to be used for the operation is almost complete, Weekly Trust learnt.
A lecturer at the University of Maiduguri who spoke to Weekly Trust blamed government for the current killings, especially those of the traditional leaders. According to him, government should have provided security for them after they undertook such a risky venture. Even cops are now targets of mysterious killers. This apparent guerilla warfare may not end except something urgent is done, because as it is, no one knows who will be next.