NORTH WILL DISGRACE JONATHAN — SANI, KATSINA PDP CHIEFTAIN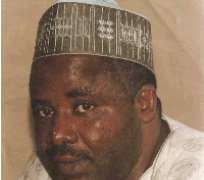 Alhaji Aliyu Sani
The chairman of the Peoples Democratic Party (PDP) Concerned Members' Forum, Katsina State, Alhaji Aliyu Sani, has urged restraint and full compliance with the provisions of zoning in the constitution of the party. The founding member of the PDP argued that President Goodluck Jonathan ceases to be part of the mandate given to the late President Umaru Musa Yar'Adua by 2011.
He spoke on this and other topical issues to Daily Sun in Katsina, Katsina State. Excerpts:
Reaction on PDP's decision that says zoning stays but Jonathan can contest
PDP is our party and it is a great because we have great people among us. We have people who can decide, we have people who can deceive and people who can come up with things like the doctrine of necessity. We have a lot of clever people in PDP.
An average Nigerian knows that these people who claim that Jonathan can contest are deceiving him. Jonathan himself knows that the people are deceiving him because he is a respected gentleman who is worth his salt. I don't believe Jonathan will allow himself to be deceived by those surrogates.
All the political manouvres going on in the Wadata Plaza in Abuja and other places including up North is nothing, but the desperation of people trying to make money or something out of nothing. But the real fact is that the North is one solid entity that cannot in anyway and will never relinquish power to any part of the country as far as 2011 is concerned. We are one and solid entity.
Even those who call themselves the foot soldiers of Jonathan, going about campaigning for him, telling people lies are not serious because it is their own trade. They are used to that, they are always ready to be hired and people have already known them.
There is nobody among them that can call 10 to 29 northerners and tell them what to do, you can see the roll call. Some lost relevance long ago, some lost relevance during the Third Term agenda of Obasanjo which failed woefully. Some of them are not taken seriously even in their wards.
It is funny when some people continue to say Jonathan should contest and are sponsoring youth groups and some greedy elders claiming it is unfair to deny Jonathan the right to contest while others say those opposed to Jonathan are interfering with God's decision. Which God? The only God we know which creates everything and everyone is the one that has given power to the North. He is the one that took it away at the time He wanted by taking Umaru. May his soul rest in peace. That God is still very much alive and He is the God we worship. We know He is with us, we tell Him everyday that this power which belongs to us must remain in the North until 2015.
That Yar'Adua/Jonathan ticket subsists till 2015
That is bull shit. In which part of the North is Jonathan from? Was he born in Zungeru or Sokoto? What ticket are you talking about? It was Umaru that picked Jonathan as running mate and the ticket terminates with Umaru.
If Umaru who was given the mandate to contest for four years by the North had been alive and found not to be suitable, the North would have changed him and Jonathan would not be there.
Whoever the North decides to field would have another running mate. May be, from the South-East or South-South, but this time around, it could be Peter Odili or another person. The ticket is with the President not the Vice President.
The counter argument of some clever people who want to sap Nigeria or the economy or use Jonathan to make some money out of the nation's coffers or just trying to bulldoze their way back to reckoning by telling lot of lies is false. The ticket is not for Jonathan, it is for Yar'Adua and it terminates in 2011.
Generational shift
You cannot divorce maturity from leadership. The generational shift they are canvassing is good but how many of us are ready for that? How many among the youth have proved their worth or have even the guts to come now and say they want to contest?
You see, wisdom is a gift from Almighty God. The country as it is now, needs a lot of guidance. A young man cannot guide the nation. There are a lot of implications in leadership. You cannot know until you are able to be part and parcel of leadership. If you don't know the intricacies of leadership, you cannot lead.
Leadership is not just about occupying an office. You are going to lead a complex society like Nigeria with over 250 different tribes with different cultures and different religions. So, we need someone who actually understands Nigeria. The knowledge of most youth of today is limited to their offices and areas of specialization.
By the time the nation is put in the right perspective, on the right footing, where probably you get a credible leader that can do away with a lot of things like corruption and other societal ills and restore peace, then the new generation can assume leadership because the setting would be right for them. But for now, there are lots of problems.
This is why, in as much as I believe in generational shift, I also want the youth and people of my own category to be part of the government and learn governance. They should learn the intricacies of leadership and understand Nigeria as it is with all its complexities. Then we can aspire to be president when the setting is right. But for now, we need a mature person.
Consensus candidate from the North
Actually, you see, each and every member of the PDP can aspire to become the President, provided he satisfies all the criteria. But what is most important is how credible are you. I am sure if level-playing ground is provided and a free and fair primary is conducted, whoever loses will certainly support the winner. I assure you when a credible candidate emerges, it will be a balance fight between PDP and whoever emerges in the other parties.
Jonathan and 2011
My advice to Jonathan is to come out in clear terms. If he is trying to use people to know the psychology of Nigerians, I think he is trying to add salt to injury. As a leader, one has to be straightforward. He has the right to contest constitutionally.
He was part of the zoning arrangement as such I advise him to step down in 2011. He should not in any way allow himself to be deceived. He should make it categorically clear to Nigerians that he is not contesting. If he does that, he becomes a hero and all Nigerians not only northerners will root for him come 2015. For now, I advise him not to ridicule himself because he will be disgraced.
Babangida, Atiku and Gusau
Yes. I think the most suitable among the trio under PDP is the one we are waiting for and that is General Aliyu Gusau. He is a man of principle and he is a very strong candidate. He is forthright and he will never disappoint. Gusau is the only person that can deliver, others have been tested and we have seen their performances. I am not saying they are not capable, but Gusau will perform because he has a better understanding of Nigerians and Nigeria.
Societal ills like corruption, robbery and kidnapping will be drastically reduced if Gusau is given the mandate next year. He is the man we are waiting for. If he declares his ambition, I am sure the whole country will root for him. As far as we are concerned, he is the best candidate of the PDP.
The new Congress for Progressive Change (CPC) is gaining popularity rapidly in Katsina State among others. Do you think Governor Ibrahim Shema will retain his seat next year?
This is funny. When you said CPC could take over the governance of Katsina State, I laughed. First of all, you look at the credentials of the governor. You look at the projects and programmes this gentleman has executed in three years. By all standards, we know, you have been in Katsina so you know what the governor has executed in three years surpassed what Yar'Adua did in eight years. This is a common knowledge and we proclaim it everywhere. If you are honest to yourself, you will admit it.
People who have left PDP for other parties are entitled to their rights. Every Nigeria has the right to join any party of his or her choice. Katsina State indigenes are aware of what the governor has done for them. The governor has being trying to ensure the people of Katsina get the best. For this reason, there is no party, no party I repeat, can upstage PDP in Katsina in the coming gubernatorial election, no matter who is fielded. I assure you of this.