WAR OVER MIRACLE EXAM CENTRES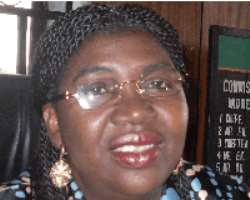 •Osarenren

When Dr (Mrs) Ngozi Osarenren took oath of office two years ago as Commissioner for Education in Edo State, little did she know she would one day receive serious threats to her life and that of her family. She had thought that her brief only entailed doing a good job.
'The rot (in Edo State educational system) cannot be quantified in terms of depth or height. It was like locusts ravaging the land…I had only sought to do what is right, what is proper,' she told Sunday Sun.
Weeks after taking oath of office, Dr Osarenren's eagle eyes discovered that some schools in the state forged the commissioner's signature and the ministry's letter-headed paper to present to examination bodies. While the West African Examination Council (WAEC) reacted to it quickly, the National Examinations Council (NECO) did not bother.
Sunday Sun gathered that some staffers of the NECO office in Benin were collaborating with certain 'examination miracle' centres on the deal. The result is that a school that has been recommended to take in 50 students, based on findings of its capacity by inspectors, suddenly received a list from NECO of 90 candidates.
The ministry then blacklisted all schools not qualified to participate in the exams, and in the process incurred the wrath of many persons, including students and parents that had paid for the exams through their noses.
But it also suddenly dawned on the private school owners who ran examination centres that the doors to their multi-billion naira enterprise was closing fast. Although some reluctantly complied, there were those who resolved to stop the commissioner at all costs.
The war came in the form of threats, kidnap and assassination attempts. But the worst were the diabolical attacks. According to Dr Osanrenren, 'those are not experiences anybody will want to re-live. They were very harrowing, disturbing periods.'
Before the 'war'
The commissioner had before the 'war' ensued stopped the admission of fresh candidates into the SSIII class preparing for the Senior Secondary School Certificate Examination. Her argument was that candidates above the normal school age or who did not pass through the regular educational system should take the November/December General Certificate Examination (GCE) specially designed for them. She knew it was easier for the private schools to be used as 'miracle' centres as long as candidates paid the exorbitant fees whether they are present in the exam hall or not.
As one of the measures to check this, the Ministry of Education organized a reorientation course for its schools' inspectorate division. It also held a stakeholders meeting with officials of WAEC, NECO and the National Business and Technical Examinations Board (NABTEB).
After collecting data from all schools on the number of students to register for exams in the 18 local governments, the stakeholders agreed among others that no school will register more than 250 candidates for any of the examinations in the state; all registered candidates must carry an ID card signed by the Commissioner for Education, apart from their school ID; and that WAEC, NECO and NABTEB should request from each school a cover letter from the ministry permitting them to write the exams. Any school without that letter cannot participate in the exams.
Private schools were also required to present a renewal receipt to show they are still qualified to host exams. The attendance register must be made available to the ministry's inspectors and any candidate without study record cannot sit for the exam. With all these measures put in place, all the holes through which the rats of malpractice penetrated the state were fixed. Or so they thought.
Hitherto, owners of dubious exam centres collaborated with people in neighbouring states who sent their candidates to Edo to sit for the exams, and such candidates usually passed even at one sitting. But this year, it was no more business as usual, and the commissioner got a very stiff resistance from those who reaped from the deal.
'N5m every Friday'
In an interview she granted the press, Dr Osarenren said: 'I was given up till January 2010 to die but it was only the grace of God that sustained me and my family. I came to Edo State to serve the people. I am not here to disturb anybody that is doing his or her job well. I have a mission to sanitize and restore the glory of education in the state and leave my footprints in the sands of time that once upon a time, a woman trod this path of honour and made Edo State number one educationally.'
She said the 'miracle centre' owners tried severally to bribe her until someone confronted her that her predecessors who complied got N5 million every Friday as settlement.
Scary SMS
Some of the SMS she received had texts such as: 'Watch out, if you don't withdraw your policy within one week from today, the ground must lick your blood. Come to the ministry now, our men are on ground to track you down!' 'After 11th Jan, tell Nosayaba and your people to start planning for your interment. Know this now, you are a moving corpse already. Gather all security, we shall track you.'
Curiously, some of them even gave vivid details of what she did in the office. For instance: 'Ngozi, if you are to be sure that you are in danger, spend at least three hours in your office tomorrow. After that we shall send you a recorded tape of your activities in the office. We must track you down.'
But the most disturbing was one that made reference to the late Commissioner for Justice that was murdered in office. 'We handled Justice Roland Amoize during Prof Osunbor (administration). We shall focus grenade on your roof in Lagos and blow it off. Then you will know what you are into.' And yet another: 'Ngozi, you are using your neck to teat the depth of the ocean.'
Save me, O Comrade!
Of course, she resorted to using security outfit, a part of the job she hated.
'I'm a simple person, but the aspect where six to seven policemen in mufti have to move around with me made me very uncomfortable. That affected my children too. When they came on holiday, they had to leave because they felt very uncomfortable. They described it as being in prison without committing an offence.'
Although nobody came face to face to attack her, the shadow followed her literally wherever she went.
'Nobody came to confront me one on one but on several occasions we were chased by vehicles. Several times too, I have noticed people monitoring my home, people hanging by my house for the whole day, and then I will have to raise alarm and call the police.
'As I left the office day in day out, a car would follow mine. On one occasion, we had to run into Government House because I had just one orderly that day. At times I will leave the house and sleep in hotels, sleep in different places, stay incognito just to avoid being located. I had to device my own special strategy to safeguard myself because life is greater than whatever you use in sustaining it.'
As if these were not enough, a series of other unconventional methods were also deployed to scare her. These included a mysterious black bird appearing in her office. At another time, an owl appeared in the morning as she entered the office. She also mysteriously collapsed at a public function. Regardless, she stood her ground until the results began to show. Today, Edo boasts of a completely reformed examinations process. And the gladiators appear to have sheathed their swords.