NO BLUE PRINT ON NIGERIAN FOOTBALL – KADIRI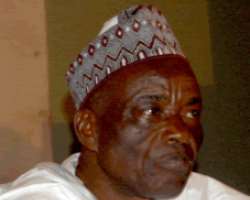 Momodu Kadiri
Chairman of the Presidential Technical Advisory Committee on Football Development, Alhaji Momodu Kadiri, has revealed that Nigerian football has no blue print guiding its management and administration.
Kadiri, addressing sports writers in Lagos yesterday, disclosed that the nation's football had continued to drift like a piece of log in a turbulent sea all these years because it has been existing on just mere rules and regulations.
He said that to effectively meet the committee's target set by the Minister of Sports and Chairman, National Sports Commission (NSC), Alhaji Ibrahim Bio, the committee had set up sub-committees, with a mandate to go beyond their environment in collating data that would help solve the problems militating against the game of football in the country.
" Nigerian football has been running on just rules and regulations. There is no blue print on how it should be managed. "We have been given the Herculean task to design a blue print for effective administration and development of our football. " The committee is alert to some of the happenings in the football circles recently with considerable interest the build-up towards the Nigeria Football Federation (NFF) elections. " In fashioning out a blue print, we expect it to help the effective participation of the populace in the growth and sustenance of the game.
" We are deeply touched by the varied responses from the passionate soccer public and the input have fortified our conviction that this is a task that must be accomplished to the letter. " The Presidential Technical Committee is working judiciously and we will go the whole hog to come out with a blue print that would help us create the ideal we want. " This is not like the tradition of most committees, where findings are usually swept under the carpet.
If we have a system that cannot produce leaders who can inspire growth and development of the game on a consistent level, then we would be condemned to stagnate and stay stale in our mediocrity".
Meanwhile, the committee set up on July 6, 2010 is given four months to complete its assignment.
the sub-committees set up include Technical, Marketing, Legal and Memoranda committees.