JANG IS SIMPLY FANTASTIC, SAYS PROFESSOR DAKUM SHAWN, PDP FACTIONAL CHAIRMAN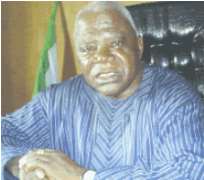 I was his Director-General for the campaign when he was contesting for that position. We came out with a blueprint, which he approved at that time. When he was elected he set up a committee cutting across the stakeholders of our party. They also worked out a blueprint, which was lifted from the manifesto of our party, the PDP.
I want to acknowledge that Jang has been respecting and following that blueprint. My own assessment is that so far, he has done very well. In my private discussions with him, I found out that he has some regrets, which is that the incessant violence has debarred him from doing far more than he has done so far.
The network of roads he has done are very important, especially those in the rural areas. I give you an example. The Kanam-Wase road is a road that every administration has promised to do from the inception of Benue- Plateau because there was a bridge there that was taking a lot of lives. He has now completed that road. It links Wase and Kanam which means you no longer need to get to Langtang before coming to Wase.
You see, that area has a very large concentration of farmers. These farmers can now move their products out, even up to Jos. People have now started plying taxi on that road. That is helping the economy. These roads are done not just to satisfy an individual but the need of the community and the state as a whole. There are so many of them. If you go round, you will see them.
So far, so good. For a man to have rolled out almost 30 roads within two and a half years, it is fantastic. For the first time we are seeing overhead bridges in Jos. Rukwuba road was a nightmare before now but he has solved that problem by putting an overhead bridge. Some people have been governors for eight years , they cannot even boast of two roads that they did.
And it is not as if the revenue allocation formula has changed. There are two things that are making him successful. First, he has Plateau in his heart. I can tell you that in all my political career, Governor Jang is one man I have seen who is ready to die for Plateau. Secondly, he is a God fearing leader. Unfortunately we are going through some crisis but it is tough time that makes tough people. One of the accusations against him is that he has lopsided development in favour of Berom area where he comes from.
Firstly, let me say that Jos is a state capital. It is just like somebody in Gboko, Benue State complaining that Markudi has been developed to the detriment of Gboko or somebody in the creeks in Rivers complaining that Port Harcourt has been developed at the expense of his area. The belief of Governor Jang is that we should not remain a civil service state, that we should open the state capital and make it attractive to investors and outsiders generally.
He has even spent state money to open the federal road from the airport to the town by dualising it, so that those coming by air will come into the state comfortably. But because these places are in Berom land, some people are complaining. But the cars that ply through them, do they belong to Berom people only? Road does not belong to one person or one zone.
He has opened up roads to decongest the capital. In any case, there is no local council where five or ten roads are not being built. These roads are not in Berom land and nobody is talking about that.
I do not have regrets that this state capital is being developed, just because it is in Berom land. When Joshua Dariye was here he made one road from Barkin Ladi to his village. Some people made noise about it, but I did not, because that road is not being used by his villagers alone, people going to Gboko now use that road. Let me be honest with you.
If anybody comes from Shendam and becomes governor, he should develop his area, because when the next governor comes he will not repeat those roads, he will do other areas. People should ask whether those roads are important. I give you an example, I was with the governor about a week ago, and I complained about a certain local government in Plateau whose capital you cannot reach except you go through Bauchi, but unknown to me massive work was already going on there to connect the place. We should actually be concerned about the importance of the roads being made. These are political comments and I do not blame those making the complaints because everybody wants development in his area.
How about allegations that Jang has abandoned those who helped him to get to power?
First, let me say that I was one of those who worked for Solomon Lar when he became Governor in 1979. I became Speaker of the House, but I tell you that Governor Lar never visited my constituency for one day, yet we brought nearly 90 percent of the votes for him. I was also Director-General of Dariye's campaign. I worked with him for some time.
The only governor I did not work with was Fidelis Tapgun. I worked with the others and now with Jang and I want to state categorically that from Solomon Lar up to Jang, these same comments and complaints were there. It was at the time of Solomon Lar that we had the phrase Langtang Mafia. He was accused of not picking those who worked with him but concentrating on Lagtang. When it came to Dariye, they accused him of surrounding himself with Mosere or Mupun people. Let's come to Jang, the issue is that the circumstance that Jang found himself is quite different from the others.
There was a political struggle here and Dariye was impeached. So everybody wanted a change.
It was therefore a very massive support for Jang. But I can tell you that in actual fact, Jang is one of those who looked after those who worked with him. When he came in, there was a lot of opposition by people who wanted the same seat. Governor Jang nominated the Director-General for one of those who contested against him to become an Ambassador. One of the others is now in charge of monitoring projects in the state.
These were people that worked against him. He told those who worked with him that the government should not be narrow, that every group should be taken along. All these kind of talk now spring up because people are finding ways to grab power. I have heard people say he took somebody who did not work for him and made him commissioner. But what he did was to call for five names from each local government.
He then held another meeting in which he asked the councils to reduce the five names to one. Some were able to do so, while those who could not, he had to take the decision by himself. What happened was that when he won under what he called Jang Organisation, he told everybody that he was now a governor for the whole state and not only for the Jang Organisation. So you find a commissioner or adviser that worked for other groups during the campaign. He took everybody along. Quite frankly, I believe that these are just political tactics for people who are looking for power.
As for his chances I can assure you that if things remain as they are, then I see no reason why he cannot make it. Even as we talk I have not seen anyone who has come out challenging that position yet for me to compare him with Governor Jang. I want to let you know that we see Jang as a hero here. If you go to the interior, they will tell you that apart from the late J. D Gomwalk, nobody else has done as much as Governor Jang.
Feud between Governor and deputy
In the first place, how did Mrs Pauline Tallen become Deputy Governor? The party must have sat down and decided to give the position to her. And as a party right now nobody has indicated that he wants to be deputy governor. Some people have come out to say they want to be senators and so on. In any case, nobody can make such an indication because even if you do that it will be a waste of time because it is like crossing the bridge before you get there. There can be no deputy before the substantive boss. For now.
I do not see any threat to her position. If it is for the fear of the unknown, why does she not just wait and see. If she works hard and sticks with the governor, then there will be no problem because it is what she gets that the governor will get. That's my own advice.