OKEREKE ONYIUKE: EFCC CHALLENGES COURT ORDER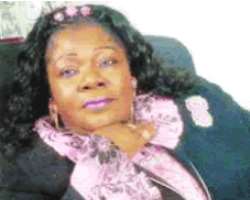 The anti-graft agency, Economic and Financial Crimes Commission (EFCC) has opposed the power of a Lagos High Court restraining it from arresting Professor Ndi Okereke-Onyiuke, the embattled former Director-General of the Nigerian Stock Exchange (NSE).
This is even as Okereke-Onyiuke's counsel, Chief Robert Clarke (SAN) told the court yesterday that the state Commissioner of Police, Marvel Akpoyibo has declined to accept the court processes served on him by the Bailiff of the court on the matter.
Justice Morenike Obadina of the state High Court had on August 12, 2010 restrained the anti-graft agency from harassing, embarrassing, intimidating or threatening to arrest and detain the sacked DG of NSE
Respondents in the suit include the Inspector General of Police, Commissioner of Police, Lagos State, the EFCC and SEC.
When the matter came up yesterday before Justice W.A.E. Ayo, counsel to EFCC, Godwin Obla disclosed that the commission has filed a Notice of Preliminary objection against the order of the court. The preliminary objection was brought pursuant to Order V111 Rule 1,2,4 and 5 of the Fundamental Human Rights Procedure Rules, 2009. In the objection EFCC argued that the court does not have the jurisdiction to make orders restraining it from performing its statutory duty of investigation, arrest, and prosecution of crime.
The agency also maintained that the court cannot act on mere speculations to act on such action filed before it, except a valid laws in Nigeria. Obla argued that the court do not have the competence and jurisdiction to base decisions on speculativeand hypotheticalgrounds adding that the materials provided by Okereke-Onyiuke did not disclose a cause of action against the Commission.
Counsel to Okereke-Onyiuke in his submission told the court that all the respondents were served with court processes except the Commissioner of Police, Lagos State who refused to accept court processes served on him.
Clarke told the court that all efforts made by him, including writing personal letter to the CP proved abortive.
The court after an argument by counsels, consolidated the substantial application and the Notice of Preliminary Objection and adjourned till September 7º for hearing of the two applications.