2023 AFCON: CAF Unveils Official Match Ball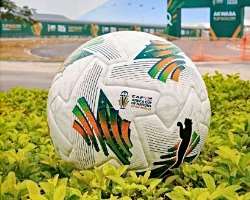 The Confederation of African Football (CAF) on Monday unveiled the official match ball for the 2023 Africa Cup of Nations.
The official match ball, POKOU, is named after Ivorian legendary forward Laurent Pokou, a doyen of African football.
The official ball, POKOU, features the three main colours of the Cote d'Ivoire flag – white, orange and green, whilst incorporating the latest technology that will revolutionize the game on the continent and beyond.
Nicknamed L'homme d'Asmara, Pokou is widely regarded as one of the greatest players in the history in Ivorian football.
The 2023 AFCON will run from January 13 to February 11 ,2024 in the cities of Abidjan, Bouake, Korhogo, San Pedro and Yamoussoukro.