Sinclair Set To Retire From International Game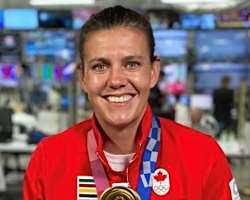 Canada's Christine Sinclair is closing the book on a international career as the world's all-time leading goalscorer but the country's long-time talisman said one of her greatest triumphs was being a vocal advocate for the women's game.
The 40-year-old has 190 goals in 327 appearances, announced her retirement from the Canada team on Friday but plans to play for the NWSL's Portland Thorns next season.
Portugal's Cristiano Ronaldo hold the men's international scoring record with 127 goals.
Sinclair, who won an Olympic gold medal and appeared in six World Cup tournaments, says she is leaving the international stage in an immeasurably better place than she found it.
"One of the things I'm most proud of is the growth of the game and then, here in Canada, the fight for pay equity and standards. When I first joined the national team as a 16-year-old, it's not that you don't care, but you have other things to worry about. You're just happy to be there. Just knowing that the team and the sport is in a better place than when I joined the national team ... and the fight is not over. I will still continue to fight for this team and the players, pro league, I feel like as women that will be a never- ending battle and it's one that I will continue to fight."