OKOCHA WEEPS FOR NIGERIAN FOOTBALL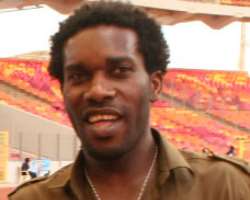 Okocha
Austin Jay Jay Okocha has showered praises on players of Enyimba International of Aba and Kaduna United for their impressive displays at this year's Federation Cup final match decided last Sunday at the Sani Abacha Stadium in Kano which Kaduna United won 4-2 on penalties after scores ended 3-3 at full time.
But the former Bolton Wanderers of England and Super Eagles' captain thumbed-down the Nigeria Football Federation (NFF) over absence of live telecast and sponsors for the nation's most glamorous football competition.
'It was an interesting game. It's rare to see six goals in one match particularly, when it is the final of a competition. It was a delightful match to watch', he remarked moments after last Sunday's Federation Cup final.
'By the standard of Nigeria and African football, the standard of the match was okay. But we all know that it could have been better if the players were well motivated. For players with little resources to play their hearts out the manner they did, I think they deserve commendation' Okocha went on.
'I think the organisation needs to be improved. I could not believe that the final of Nigeria's most glamorous football competition could not be telecast live. How then do we advertise our football? How do we create awareness and show people the level or standard our football has attained, he queried.
'It's shocking and amazing that a big competition such as the Federation Cup has no sponsors. How do you raise funds for the trophies? How do you reward the team that wins the competition? I think the people running our football should be honest to admit that they did nothing to make the final an exciting one because the clubs deserve something to motivate them. There should be something for the clubs to look up to, something to bring out the hunger to achieve in the players.