I Was The First Actor To Be Dealt With By Pirates -Baba Sala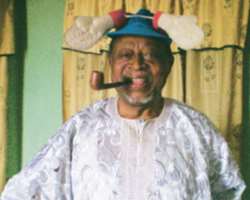 No doubt, the history of comedy in Nigeria is incomplete without the contributions of Apostle Moses Adejumo Olaiya popularly known as Baba Sala. He was recently hosted to a dinner by Laffmataz in Lagos where he spoke with TOPE OLUKOLE about his journey into acting, the theft of his master tape saga and other issues.
Have you abandoned acting totally?
Obviously not. It was the experience I had then that cut me off from the scene. Moreover, as you can see, I have been invited to participate in this year's "Behind the scene" and their promise is to help resuscitate my career.
What actually happened?
We were having it real nice and the future appeared very bright until the Orun Mooru incident happened. All along, we were doing our thing on stage and television stations. We also recorded some on audio cassettes for the listeners.
However, there came a time when people began to see more prospects in what we were doing and they advised us to take more advantage of the situation. Precisely in 1980, Elder GM Johnson prompted me into film making.
Honestly, he did it in good faith. His intention then was to open a new avenue for me to make more money for the effort I had put into the profession.
Unfortunately, this whole idea ended up destroying not only the envisaged fortune from the Orun Mooru film, but also the career I had built for many years. My whole world crashed. Initially, we did it on 36mm and later reduced it to 16mm. This film, unknown to us, was dubbed by some wicked people and pirated as original.
I had never experienced such a disappointment in my life. I was shocked to the marrow and only God knew how I survived paralysis at this period. I was cheated and left shattered. For the realisation of this dream, I had gone to borrow over N1.5 million from a bank to see me through the business.
You can imagine how much that translates to in the present day, I automatically became indebted, and I sold most of my properties to settle the debt. First, was my three-storey building at Mushin, then another one at Ibadan. It was that bad.
Were there no friends and colleagues that could have come to your assistance?
There was very little people could do. The debt was so enormous and you know that not many people were as daring then as of now. You know that almost every film that is produced this day is pirated and artistes still survive.
I was the first actor to be hard-hit by pirates and lots of my friends were of no help. Was it Baba Mero or Ade Love that I trained that had not made money that would help or even Ogunde? These people were not having much money then.
However, I approached the then Oyo State government and some contracts were awarded to me as a form of assistance. Pa Awolowo also helped me. But I tell you, most of the funds went for the settlement of the debt.
There were rumours that one of your children was responsible. Is this true?
None of them is dead and we all suffered it. If it was any of them that did the job, I believe he or she should have made life easier for us then and even now. I am sure that person should have become wealthy enough for the society or at least we, his blood, to see and confirm.
But as a man of God, you may have unwittingly barred him from making such success?
Oh, as for utterances and proclamations, there were many of them from me personally and from well-wishers who did so out of sympathy. On the other hand, what do you expect? You think someone will come out of the blues to squander all I had laboured for in so many years and such a person would go scot-free?
I am sure you also would not have spared him. My fans were also another group to contend with.
You cannot imagine what I passed through. I lost money, properties and was pushed out of fame. It was, indeed a harrowing experience. But emphatically, I want to insist that none of my children had hand in it.
Did you make money then as artistes do these days?
Making money is easier these days than then. There were no home videos, only television series and stage dramas and these really did not bring much money. Then, if one is focused and hardworking, he would make money.
I was very popular and irresistible to television stations. I was all over Lagos, Oyo, Kwara, Ogun, Ondo states and even in the North. I made at least enough money to take care of my immediate needs and to fend for my troupe and from the landed properties I lost to the bank, you would know that I wasn't doing badly afterall. What got us stuck to acting was the fame we accrued from it. It opened doors; it still does.
Were you in any way trained for this?
No, nobody trained me, I was lucky to have been endowed by God and like I said, it comes naturally.
Since the Orun Mooru saga, what have you been doing?
I went into full time ministry. I am sure this was what enabled me to remain alive. Otherwise, I would be dead and forgotten. The grace of God has been helping me. I now live an impactful life onto others, citing my experience as an example for them.
Does that mean you have not given up totally on acting?
My dear, the answer is no. The same God that has preserved me till date sure has better plans for me. I am hopeful and I believe I will still taste some sweet pies of the profession before I kiss the world good-bye. Otherwise, I repeat, I should have been long forgotten before now. Presently, my plan is to have all my works on home video and get them circulated.
I mean the likes of Mosebolatan, Orun Mooru, Obeegbona would be on video CD's for people's delight. Believe me; with God and my children behind me, I am back and better in business. I mean to recover all that I have lost. An entirely new movie is ready for release now. With enough financial assistance, it should be in the market soon. It is titled Oku Abuke. I am sure everyone will like it.