SIASIA WANTS N15M TO COACH EAGLES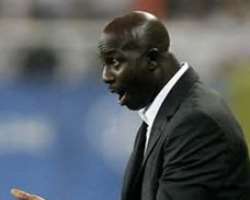 Siasia
Nigeria Football Federation (NFF) and Samson Siasia meeting ended in a stalemate Wednesday night as they could not finalize what the take home pay of the new manager the Super Eagles will be.
Daily Sunsport can report exclusively that after they agreed to offer Siasia a four-year deal that would culminate in his taking the Super Eagles to the Africa Nations Cup and World Cup, talks broke down when the national Under-23 team's former coach tabled his financial demands to the executive committee of the NFF.
An impeccable source close to the NFF disclosed that Siasia asked to be paid N15 million monthly and One million USD as sign on fees aside an official quarters and an official car.
The NFF told him that his demand was too much and far out of what they could afford, explaining to him that the foreign coaches who were employed in the last three years were paid by GLO and PTF.
'We told him that that he had to reduce his demands drastically if he really wanted to coach the Super Eagles as the NFF cannot afford such huge amount. He refused to shift ground and we had to excuse him to leave since he was travelling with Heartland FC of Owerri for an African Champions league match in Egypt.
'In principle, we have agreed to give him the job but we shall continue the negotiation on his salary and sign on fee when he comes back from Egypt. I must also tell you that he impressed us at the discussion and we believe he would deliver, if he agrees to tour terms' our source said.
NFF Vice President, Obinna Ogba, told an Abuja radio station after the meeting last Wednesday that a three-man committee had been set up to meet with Siasia to finalize the negotiation with him when he returns and gets back to the board.