Messi's Father Denies Rumours About Argentine Future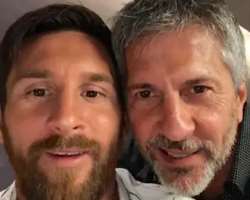 Lionel Messi's father Jorge has denied fake news being spread about the forward's future at Paris Saint-Germain.
Messi's contract is due at the Parc des Princes at the end of the campaign, with talk over his next career move on the spiral.
A report suggested PSG are not willing to accept Messi's wage demands over a new deal, while another claimed he is asking for €600million to join Saudi side Al Hilal.
However, Jorge Messi took to social media to say: "When will you stop lying? Where's the proof? Oh, it's all false. OK. No matter how loud it is called. Do not believe it. We will no longer tolerate fake news to gain followers."
Messi has 18 goals and 17 assists in 31 games for PSG this season, but he came in for criticism for his displays in their Champions League last-16 elimination to Bayern Munich.