Tottenham Want To Keep Kane For The Rest Of His Career - Conte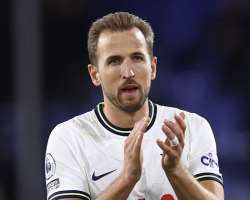 Tottenham Hotspur manager Antonio Conte is confident the club wish to keep striker Harry Kane for the rest of the striker's career.
Kane's brace against Nottingham Forest last week out moved him onto 20 Premier League goals for the season – the sixth time in his career he has achieved that feat.
The England captain will be out of contract at the end of next season, though it has been reported Spurs are desperate not to lose the 29-year-old.
Speaking in a post-match press conference, Conte said: "I think this is a question for the club. For sure the club wants to involve Harry Kane for the rest of his career, in my opinion. When you have this type of player, a world-class striker like him, you want him to stay here for the rest of his life. But then, you know football. Sometimes it's unpredictable but it's not in my task to make a decision. This is the decision for the club and for Harry."