La Liga: Barcalona Have Never Bought Referees - Laporta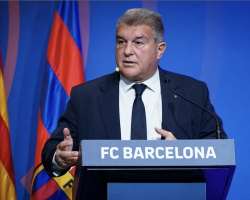 Barcelona president Joan Laporta is adamant that the Catalanshave never "bought referees" amid investigations into payments made to a former refereeing chief over several years.
Barcelona paid a reported 6.5 million euros ($6.9 million) between 2001 and 2018 to a company owned by Jose Maria Enriquez Negreira, a former vice-president of the Technical Committee of Referees (CTA) in Spain, for what they said was advice on refereeing matters.
Spanish prosecutors said they intend to report Barcelona for "continued sporting corruption".
Reacting, Laporta said: "Let it be clear Barca have never bought referees and Barca have never had the intention of buying referees, absolutely never. The forcefulness of the facts contradicts those who try to change the story. We are doing well again – nothing is chance."
"There is a campaign to damage Barça's interests. It is a campaign aimed at controlling the club. LaLiga does not accept that Barça did not sign the contract with CVC (a collective media rights deal)."