Neymar Ruled Out For Rest Of Season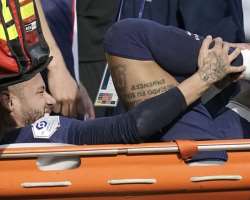 Paris St Germain and Brazil forward Neymar has been ruled out for the rest of the season with the player set to undergo surgery to repair ankle ligaments that will keep him out for at least three months.
A club statement released by PSG read: "Neymar Jr has had several episodes of instability in his right ankle in recent years. Following his last sprain contracted on February 20, the medical staff... recommended a ligament repair operation to avoid a major risk of recurrence."
"All the experts consulted have confirmed this necessity. A delay of three to four months is expected before his return to training."
The club said he would undergo the surgery in Doha.