2011: Diaspora Nigerians Will Not Vote - Jega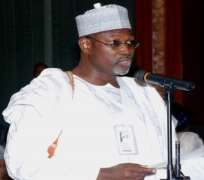 ABUJA, August 03, (THEWILL) - It was hopes dashed for Nigerians in the Diaspora, as their agitations to exercise their franchise in the 2011 general elections faded today with the emphatic declaration by the Chairman of the Independent National Electoral Commission (INEC) Attahiru Jega, "that he could not guarantee that Nigerians living
outside the country would vote."
The bad news was relayed when Jega played host to a delegation of Nigerians in the diaspora in his office in Abuja.
He pointedly told them, "I cannot guarantee outright that in January that you can vote", but instead he assured the delegation that the commission would do everything to conduct free and credible elections.
According to Jega the major concern of the commission for now is how to capture many
Nigerians through the review of the voters' register and admitted that it was a formidable task to conduct credible elections.
"We as a commission is determined to do our best to conduct free, fair and credible polls and we can only do that when every Nigerian is fully involved".
The delegation, which was led by Allistar Soyode informed Jega that over 20 million Nigerians living abroad are eligible to vote saying, "these Nigerians love to participate in the electoral process and many of them are ready to seek elective offices".
He maintained that all Nigerians above 18 years living outside should be allowed to vote at the next general elections and said government should take all necessary steps to ensure Nigerians in diaspora vote.
The declaration no doubt is a blow to diasporan Nigerians who had made several representations to relevant Nigerian authorities on the need for them to exercise their voting rights as Nigerians irrespective of their country of domicile as obtained in several other democracies like the United States of America.