2023 CHAN: Algeria Equal Records, Mozambique Move To Last-8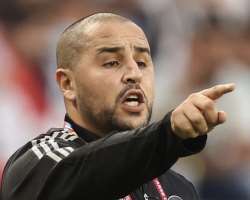 Coach Madjid Bougherra ( Algerian Coach)
Host nation Algeria equalled two African Nations Championship (CHAN) records as a Hocine Dehiri goal gave them a 1-0 win over Mozambique on Saturday in a Group Afinal-round match.
First, they join South Africa and Cameroon to qualify for the knockout phase by winning all three group matches, and the second after Cameroon to do so without conceding.
Coach Madjid Bougherra called Algeria "efficient" after 1-0 wins over Libya, Ethiopia and Mozambique.
The North African had already qualified for the quarterfinals while second-placed Mozambique held a three-point advantage over Ethiopia.
However, Mozambique lose did not hurt their qualification chances as Libya came from behind to beat Ethiopia 3-1.
Algeria topped the Group A final standings with nine points followed by Mozambique (four), Libya (three) and Ethiopia (one).
The hosts will play the Group B runners-up next Friday in Algiers while Mozambique face the Group C winners the following day in Constantine, another venue in the east of the country.