Bayern Sign Goalkeeper Sommer From Rival, Moenchengladbach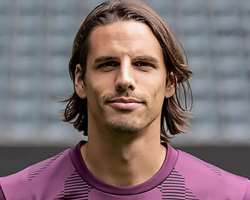 Bundesliga giants Bayern Munich have signed Switzerland goalkeeper Yann Sommer from rivals Borussia Moenchengladbach to replace injured Manuel Neuer.
The 34-year-old signed a contract until 2025 ending a search by the Bavarians for a goalkeeper following Neuer's injury.
Speaking about the deal, Bayern CEO, Oliver Kahn said: "Yann Sommer is a valuable reinforcement because he is internationally very experienced and knows the Bundesliga as well for many years. He brings everything in order to be able to contribute immediately to our success. We are confident of reaching our goals with Yann Sommer."
Bayern shotstopper, Neuer broke a leg during a skiing holiday in December and underwent surgery, ruling him out for the rest of the season.
Reacting, Sommer noted: "I look forward to my tasks at Bayern, a big club with a lot of power. I'm proud of being a part of Bayern. We have big challenges in front of us."