EPL: Rio Ferdinand picks Arsenal's Odegaard as his player of the season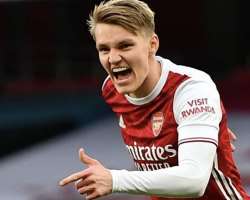 Manchester United legend, Rio Ferdinand has picked Arsenal's Martin Odegaard as the best player in the Premier League this season.
The Norwegian midfielder is Arsenal's pivot creator as the Gunners earn some huge wins against top opposition.
The former Real Madrid man has singlehandedly won matches for the club on different occasions and has provided many important assists.
Speaking in a podcast, Ferdinand said: "I'd go as far as to say right now, he's probably my player of the year. Haaland has done what he's done. He has been great, don't get me wrong. If Haaland eases up with the goals and Arsenal wins the league and Odegaard con tinues, he's my player of the year."