Italy Reveal New Kits As It Switches To Adidas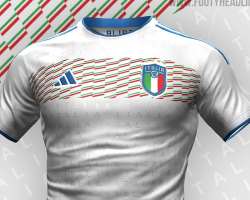 Italian Football Federation (FIGC) today unveiled the country's new kit since announcing its partnership with renowned kit makers, Adidas, a deal starting from January 1st, 2023.
At the unveiling, Bjørn Gulden, Chief Executive Officer at adidas, said: "Italy is one of the most storied and successful national teams in all of football. We are very proud to officially welcome the FIGC and all its teams to the adidas family and we look forward to a successful partnership together. At the same time, we are tremendously excited to finally be able to share with the world our fantastic line-up of products including beautiful home and away kits. They are quintessentially Italian and elegant while staying true to the iconic heritage of the ´Azzurri`."
Gabriele Gravina, FIGC President added: "Today we are entering into a new era and we are proud to be doing it with adidas, which has best interpreted, and in a modern way, the passion and the tradition of the Azzurri. For 113 years, the Italian national football team has represented a symbol of values and style around the world, our football kit is a national heritage that goes beyond sport, because it transmits feelings that unite people of different ages, sexes and social backgrounds. The male and female national football teams represent a strong element of identity that we will enhance to the fullest with this new partnership."
The new "home" kit will be worn on the pitch tomorrow Wednesday January 18th in the friendly match Under 18 between Italy and Spain planned at the Technical Federal Centre of Coverciano (Italy).