Abia State Deputy Governor Impeached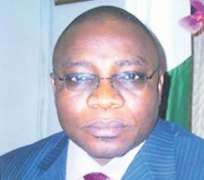 San Francisco, August 02, (THEWILL) – The Deputy Governor of Abia State, Comrade Chris Akomas was today impeached from office by the Abia State House of Assembly, at a reconvened sitting.
Comrade Akomas had resigned from office on Tuesday last week in a letter dated July 27, 2010 and read to journalists in Umuahia on Saturday but the state government denied receiving a copy of Akoma's letter of resignation from office.
Akomas and Governor Theodore Orji have been at loggerheads since the friction between former governor, Chief Orji Uzor Kalu and Theodore Orji became public knowledge. Akomas is an ally of the former governor of the state.
A 24-member House, which reconvened earlier today successfully impeached Akomas in a unanimous vote.
Speaker of the Abia State House of Assembly, Agwu U. Agwu, who received the 25-page report of the seven-man investigative panel set up by the Chief Judge of the state conducted the process in the House.
The Speaker said the panel found Akomas guilty of having amorous relationships with some female employees in his office based on the evidence of CW1 (Deputy Chief of Staff, Chief Charles Ogbonna).
Quoting Section 188 (9) of the 1999 Constitution, the Speaker said since Akomas was found guilty with the House voting unanimously to remove the deputy governor from office, the section prescribes that if supported by 2/3 members of the legislature "the holder of the office shall be removed".
"The Deputy Governor of Abia State, Comrade Chris Akomas, stands removed from office with effect from today," the Speaker said.