I Don't Know Why My Sickness Was Celebrated -Ogogo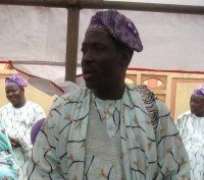 Taiwo Hassan, also known as Ogogo, needs no introduction in the entertainment industry. He recently spoke with TOPE OLUKOLE on some salient issues, particularly his sickness that brought so many rumours.
I can remember the last time I was here in this same room, you were lying so sick on this same couch you are sitting on now?
Yes I remembered, may such a sickness not come near us again.
During the sickness, there was a lull in your career and many thought that would be the end of your career, but all of a sudden, Ogogo is the toast of all producers and marketers. How were you able to achieve this?
My dear brother, let me say that all things come from Allah. At times, you may be thinking that you are doing the wrong thing and God might say you are right and vice versa. Everybody has his or her trying period when God will try you in what you don't know.
But according to my own belief, both good and bad cometh from God. And all the while that I was sick, I did not think negatively, all my thoughts as to the outcome of the sickness were positive. There were numerous people out there that were sick around that time but due to the nature of my job, it was celebrated.
During the sickness, I received series of calls, there was a time a call came through and the man at the other end asked if I was Ogogo and I said yes and the man shouted that this was Ogogo speaking, he is not dead and he started praying for me.
So, you are living you character on screen?
To God who made me, there is no one without shortcomings, I have mine too. But I know I have a policy I go by, I am a principled person, but I cannot do bad to a fellow being and I am not a selfish person. If you love sincerely, you will be at peace with yourself, I take life so simple.
A lot of reasons was given for the cause of your ill health then, some said it was cocaine that burst in your stomach, others said you contracted HIV and so on. What exactly would you say was wrong with your health then?
My friend, I never gave it a thought, because I had known that as a popular person, many reasons would be given to the cause of it. I have never seen cocaine before in my life, to God who made me. Or is it a crime for one to travel abroad?
You know around that time, it was believed that artistes were used as couriers by drug pushers?
I have never seen it before, all I know was that when we went abroad then, our fans did appreciate us. Some will pray for you, some will give you gifts, some will even beg you to follow them to the nearest cash point to give you money.
There was a time I went with Yinka Quadri, then we launched our movies there, at the end of the day, we were filled with laughter. When I was leaving Nigeria, I left with one small bag, but on coming back, I came with nine bags, even I left some with my friend, Sound Image, there in the U.K.
Our fans really stood by us, they appreciated us a lot. I was amazed when we got to Dele Momodu's house and the children greeted us traditionally. Funny enough, he speaks Yoruba too with them at home. He was the first person that launched our movies with big cash. I don't want to mention figures here, but at the end of the day, the four of us that went to UK came home with nothing less than 2000 pounds. So, imagine coming to Nigeria with such money and bags, they may then conclude we are peddling drugs.