Reps Seek 30 Percent Shares Ownership For Nigerians In GSM Companies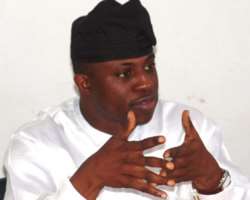 PHOTO: HOUSE SPEAKER DIMEJI BANKOLE.
ABUJA, August 01, (THEWILL) - The House of Representatives is in the process of enacting a law that would compel all telecommunications companies carrying out Global Satellite Mobile-Telecommunications (GSM) in the country to reserve and allocate at least 30percent of their total shares to Nigerians.
The bill titled, 'A bill for an act to facilitate electronic transactions in Nigeria and other related matters' and 'A bill for an act to make provision for Nigerians to acquire interest in telecommunications companies carrying on GSM in Nigeria and other matter connected therewith', has already gone through public hearing.
Speaking at the public hearing organized by Joint Committees of the House on Commerce and Communication at the weekend, Speaker Dimeji Bankole explained that the bill seeks to stimulate local participation in management and ownership of the GSM sub-sector.
He disclosed that the House realized that the issue of local content should go beyond the mere acquisition of operational licenses.
"Without the acquisition of appropriate technology, managerial know-how, and enhancing the share of our peoples' participation in the telecoms industry, the aim of the overall policy on local content will be a mere ritual that will not translate into local ownership of the Nigerian economy," Bankole warned.
Bankole equally justified the importance of the bill on electronics transfer when he stated that the lawmakers wants to provide a legal framework to facilitate electronic transactions in the country in order to institute a culture of efficiency, transparency and probity.
Commenting on the general principles of the bill, Salako observed that the nations savings and investments are crucial to its long run economic growth and they are related to the international flow of goods and capital as measured by net export and foreign investments.
He further added that the passage of the bill was to make sure that investment in the nation's telecommunication industry contributes to economic growth by establishing the right policy environment.
According to Salako, the bill when passed would mandate all GSM operators to comply with the provisions of the law within one year and six months.