EX–FOOTBALLERS READY TO SERVE NIGERIA – OKOKU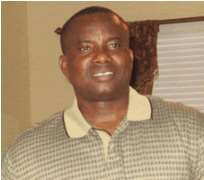 Okoku
Former international, Paul Okoku, has praised President Goodluck Ebele Jonathan for his love for the Super Eagles which made him to take decisive action to reposition the team after the World Cup's disgraceful outing. He was full of happiness that through the initiative of Mr President, some ex-internationals are now having a say in the game in country.
He also said that ex-internationals who were based abroad were not shying away from to serve the country even as he gave instances how he had gone to places to assist in cause of advancing the game in the country at personal cost. He used the opportunity to remember with nostalgia, his experiences with the national team.
Even as he wished that those who do not wish the game in the country should give way for those who have the interest of the game in the country at heart to come in. Below are the excerpts, happy reading.
Indigenous coaches should sign lucrative contracts like the expatriate ones we employ. They should be given long-term contracts and sent overseas to update their coaching credentials as a way of adding value to their already acquired experience.
Most of all, football authorities must unconditionally respect the opinions of indigenous coaches without any form of intimidation or retaliation. We want leaders who will refuse to accept failure, but then treat people with dignity in the process.
Another way to stimulate interest in the local league is to extend opportunities to the close-to-be retired footballers to play their last one or two years games in the local league. Historically, most of the successful leagues in the world do that. When their players have a year or two left to retire, they return to help in boosting their local league. I recall that the stadium was jam-packed the day Rasheed Yekini came out of retirement to play again. Think about what would have happened if Jay Jay Okocha had played his last one or two years of football in Nigeria before retiring?
This is why I support absolutely the move by former footballers to have a major role to play in football administration in Nigeria. Absolutely, I agree with them without sentiments.
President Goodluck Jonathan has started in the right direction by temporarily appointing a few of the ex-internationals to sanitise and provide antidote to our contaminated football administration. It is a welcome approach.
Ex-internationals abroad not shy to serve Nigeria
It is an unfortunate myth. If the opportunity is extended to us, we will take it. As Less Green, a motivational speaker once put it: 'I would rather be prepared for an opportunity and not get one than to get an opportunity and not be prepared.'
Perhaps, I have been a silent contributor on how to bring Nigeria's deplorable football back to prominence. I was invited at my expense to attend a meeting in Nigeria in May 2009 to help Nigerian football. At that forum, we discussed how to move our football forward, to curb age cheating in soccer and to represent the interests of our past heroes. Hence, the name Sports Initiative of Nigeria came into existence. The group's focus included extending financial assistance to ex-internationals so that they would not become destitute or living from hand to mouth after their career; to have a pension plan in place for them after retiring from active football. Part of it is how to help our past heroes with their basic medical needs so that they could always get on their feet. I can't help but have teary eyes, in private, when I saw past soccer heroes in bad shape; the players I idolized growing up.
It might interest you to know that the following were participants at the meeting: Hon. Adeniji Adele (Lagos State Commissioner for Sports), Segun Odegbami, Okey Isima, Victor Ikpeba, Francis Moniedafe, Tajudeen Disu, Joe Erico, Paul Hamilton, Shola Akinwale, Ismaila Mabo and Shakiru Lawal. I was charged with the responsibility of representing the interest of the players in the Diaspora.
There were other representatives from NSSF, NUGA, NIPOGA, NICEGA and NPUGA at the meeting.
I have also travelled far and wide at my expense, to lend support to Nigeria during the Under-20 World Cup in Holland in 2005 and the 2008 Olympics in China. I am constantly in touch with Taju Disu, Dahiru Sadi and occasionally, Austin Popo. I am for what is right rather than who is right. So pledging alliance to a specific organisation is of no significance to me, personally. Perhaps, you are surprised to learn from me now that it is a wrong premise to suggest that we, the ex-internationals abroad shy away from serving our country.
Jonathan's hammer on NFF
The Sani Lulu-led board got what it deserved. The government's action also came at the right time because they were planning to postpone the elections till December. Again, that was a clear message from President Goodluck Jonathan that it isn't going to be business as usual.
Our administrators failed to plan ahead of the World Cup, which is their greatest undoing. The NFF gave us enough NSF (non-sufficient funds) cheques that we cannot cash at the bank. They galvanized support from the states FA chairmen to bring them back to power so that they can continue to give us bad cheques. To ensure their plot worked, they sponsored the states FA chairmen to South Africa to watch the World Cup. Well, Mr President ruined their parade.
By lifting the ban, after suspending the nation from all international competitions for two years, the President demonstrated that he is hard-headed, but soft-minded. He listened to the nation's cry for a change in the administration of football. And I am expecting a positive change towards the right direction. I alluded earlier that President Jonathan started in the right direction by temporarily appointing a few ex-internationals to bring sanity to our football administration. I pray for such developments to come.
Memorable moments in national team
There were so many memorable moments for me, but I will mention a few. When I made the first team under Coach (Adegboye) Onigbinde, we had embarked on a trip to Lagos from the Benbo Games Village in Ibadan, where we were camped. Our destination was Rabat, Morocco. The team had played a goalless draw two weeks earlier in Nigeria. As we got to the airport, the supposedly key players, who were to meet us in Lagos from Benin, did not show up. While training in Morocco two days before the game, the captain, Stephen Keshi, approached Coach Onigbinde and after a brief moment with him, Onigbinde stopped the game and asked me to join the first team. That was my first international game for the Green Eagles, on August 28, 1983. It still feels like yesterday. We won the game on penalties and thus qualified Nigeria for the 1984 Africa Nations Cup in Ivory Coast. We eventually lost in the finals to the Roger Miller-led Cameroon team.
Mind you, Onigbinde elevated six of us (myself, Humphrey Edobor, Yisa Shofoluwe, Wilfred Agbonavbare, Tarila Okorowanta and Chibuzor Ehilegbu) from the Flying Eagles. After the game, Onigbinde hugged me, Ehilegbu and Shofoluwe simultaneously, calling us 'My Golden Boys.' How can I forget that?
Another interesting moment was the day preceding the game in Morocco. At the hotel's dining room, the late Ernest Okonkwo approached me and introduced himself to me. 'Who are you?' he asked curiously. 'Paul Okoku,' I nervously replied. 'The little giant, midfield dynamo,' he said. For me, he was larger than life listening to him on the radio from when I was 10 years old, and here he was talking to me face to face.
This one was a heart-dropping moment for me, when Morocco played under protest against Nigeria because I used a passport with Lucky Okoku, when my registered name was Paul Okoku.
That was during the final game for the 1984 Olympics qualification against Morocco in Casablanca. But we lost to Morocco, which went on to represent Africa in the 1984 Olympics in Los Angeles. I don't know what would have happened if we had won the match and Nigeria would be deprived of the chance to represent Africa at that year's Olympics on account of the mix-up. I wouldn't know if Coach Onigbinde still remembers the episode.
Yet another one was the day Nigerians supported Ivory Coast against their own team during the 1983 WAFU Cup semi-final match at the National Stadium in Surulere, Lagos. That was because for the first time as much as I could recall in the history of Nigerian football, we wore red jerseys, red shorts and red hoses, while the Ivoriens wore white jerseys with orange and green stripes and green shorts. Those outfits got Nigerians confused. So, for the first three to five minutes of the game, they thought that we were the Ivoriens.
I am not sure if this one qualifies as a memorable moment during my playing days. This occurred in 1984 when over 15 to 20 soldiers arrested me along with the late Bala Ali, Ehilegbu and Adeshina at the Murtala Muhammed International Airport, Lagos, just as we were checking in our luggage to board a Nigerian Airways flight. We were on our way to play professionally in Britain for Wolverhampton (The Wolves). We were ambitious young kids, determined to better our lives and the lives of our respective families. We were driven straight to the National Stadium and queried. I never knew a dungeon like that existed at the National Stadium. That was during the military regime of General Muhammadu Buhari and Brigadier Tunde Idiagbon. No one could challenge them.
Children's choice
It is my children's decision to choose the sports they participate in. I started teaching my kids how to play soccer at a very young age. To pay a close attention to their progress, I volunteered to be their coach. Eventually, I became the coach for the Under-17 girls' team. When I later introduced them to basketball, I discovered that they showed unequivocal dedication to the sport. That is their choice and I have respected that. In fact, I play basketball with my kids in our backyard to solidify my support for their choice. Sometimes, when my nephews visit me in Atlanta from Texas during their long vacation, the basketball game gets intensified.
Kids in US colours
Again, I allow my kids to make their choices, albeit, I have instilled self-pride in them. I have thought them the values my parents bestowed on me and that is to be proud of their heritage. Be informed, though, that they have been thought from early stage in kindergarten to be proud Americans. I remember when my kids were five years old, in a funny sort of way they would profess; 'I am American.'
That notwithstanding, my kids love the Nigerian culture; they watch our movies and listen to our music. They eat fufu, egusi, jollof rice, etc. It is incredible that the Ramsey Noahs, the Jim Iykes, the Jide Alabis, the Desmond Elliots and the Genevieve Nnajis are making us proud, promoting the African movie industry in the US. Similarly, Timaya, D'Banj, P-Square, 9ice and 2Face are putting their stamps on the music world stage and making waves in the US.
Sadly, our soccer is in a sorry condition. When I take my kids to Nigerian parties in the United States, they sing along with the Nigerian artistes and do a good job at it. One Nigerian movie my kids would watch over and over again is titled 'Peace Maker.' I watched the movie on VHS with my kids and my mom, and fortunately it's out on DVD after almost nine to 10 years when it first came out. My children made sure that I got the DVD copy. My kids still remember the names of the characters in the movie like Achebe and Nduka. No one will argue that the actors and actresses like Emeka Ike, Emeka Enyiocha, Nkiru Sylvanus, Benita Nzeribe, Amaechi Muonagor, Rita Edochie and Fabian Adibe performed well, they were excellent.