World Cup 2022: Denmark, Tunisia end in stalemates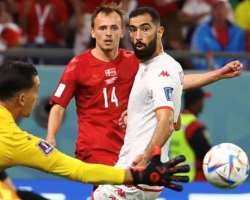 Denmark and Tunisia played a 0-0 draw in their opening groupgame on Tuesday afternoon.
The game, which took place at the Education City Stadium in Doha, Qatar.
Neither of the teams managed to score a goal during the game, but Denmark out-possessed Tunisia by a mile, 63%-38%.
Tunisia's Issam Jebali had the ball in the net in the 24th minute, but it overruled as offside. Similarly, Denmark's Andreas Olsen had the ball in the net at the 56th minute but he was in an offside position.
Tunisia's national football team has so far made six appearances at the World Cup but has never progressed beyond the group stage.
The 2022 Qatar World Cup marks Denmark's sixth qualification for the football mundial.
Both teams will play Australia and France respectively in their remaining group games.