S' Africa Erasmus Set To Springbok Return After Ban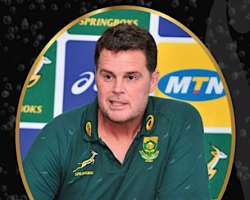 South Africa's Director of Rugby ,Rassie Erasmus will be back with the team on their end-of-year Northern hemisphere tour as his lengthy ban from attending matches comes to an end.
Erasmus has not attended any match since he was handed a ban by World Rugby in November last year. However, the ban ends on 30 September.
World Rugby found Erasmus guilty on six charges relating to criticism of Australian referee Nic Berry after the first test against the British and Irish Lions in July 2021, which included the release of an hour-long video in which he analysed what he claimed were numerous mistakes by Berry.
The ban prohibited Erasmus from entering venues or having any direct or indirect contact with coaching staff or players on match days.
The last Springbok match in which the ban applied was a scrappy 38-21 win against Argentina in Durban on Saturday.