PSYCHO-DRAMA "Sinking Sands" STARS JIMMY JEAN-LOUIS AND AMA K. ABEBRESE FEATURED IN JULY QUARTER ISSUE OF CANOE MAGAZINE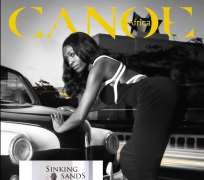 (HOLLYWOOD, July 26, 2010) – Hollywood actor/model Jimmy Jean-Louis and
famed British television host turned actress Ama K. Abebrese, the stars of much anticipated psycho-drama "Sinking Sands," are featured in the July Quarter 2010 issue of CANOE Magazine.
The feature allows readers to get to know both actors, while sharing insight as to who they are. From how they started their acting careers to discussing working together, both actors are candid and very informative. The pair also highlights beautiful African clothing in a photo shoot at the swank African Regent Hotel in Accra, Ghana.
Mr. Jean-Louis and Miss Abebrese play the leads in "Sinking Sands," which tells the story of a couple, Jimah and Pabi, in a loving marriage which turns into one of violence and abuse when Jimah becomes disfigured in a domestic accident.
The psycho-drama, wrote and directed by Africa Movie Academy Award-nominee Leila Djansi, is financed through The David Djansi Memorial Film Fund and its Australian associates and wrapped shooting in Ghana on Saturday, June 19. The film is produced by Turning Point Pictures, LLC and is distributed by Neoclassic Films Studios, with an expected Fall 2010 release.
CANOE Magazine is a quarterly publication inspired to celebrate Africa's evolving culture and lifestyle through its dedication to inform, inspire and breed a caliber of visionaries, influencing lifestyles in appreciation of the true worth of AFRICA, through its movement: Our contribution to the long awaited Afro-Renaissance.
The Canoe Magazine can be purchased at newsstands today.